Morocco
1st in Africa Cup of Nations qualifying
---
Morocco to make joint bid to host 2030 World Cup with Spain and Portugal
Morocco will join forces with Spain and Portugal in three-way bid to host the 2030 soccer World Cup, officials confirmed on Tuesday.
Morocco calls up Hakimi amid France rape investigation
Although implicated in a rape allegation in France, Achraf Hakimi was called into the Morocco squad for two friendlies.
PSG's Hakimi facing preliminary charges of rape, prosecutors say
Paris Saint-Germain defender Achraf Hakimi was given preliminary charges of rape, the prosecutor's department of Nanterre told ESPN on Friday.
2026 World Cup hosts confirmed as automatic qualifiers; 2030 host vote set for 2024
FIFA confirmed that the three 2026 World Cup hosts -- the United States, Canada and Mexico -- all had their expected automatic entries confirmed.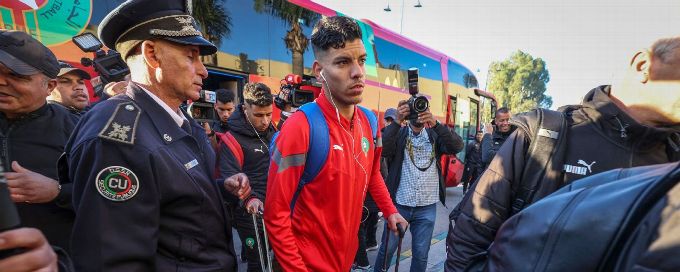 Morocco await CAF ruling after African Nations Championship no-show
Reigning African Nations Championship holders Morocco await an imminent ruling from CAF after failing to turn up for the tournament in Algeria.
Seven wishes for African football in 2023: Morocco build on World Cup, Nigeria find success, Victor Osimhen wins Ballon d'Or, and more
With 2023 firmly underway, ESPN's Ed Dove looks ahead to the coming 12 months and reveals his big wishes for African football this year.
Bayern's Mazraoui had COVID-19 at World Cup, now out with swelling around heart
Bayern Munich said Noussair Mazraoui had COVID-19 at the World Cup and is now out with swelling around his heart.
The moments that defined African football in 2022
This was a year of record-breaking achievements and unprecedented feats, but also tragedy, in the world of African football.
Africa's World Cup: Can we really talk of progress?
Morocco reached the World Cup semifinals but does an overall evaluation of African performances in Qatar indicate genuine progress?
World Cup best and worst: Memorable Messi and Morocco; Infantino's rant and Salt Bae's cameo
The World Cup provided plenty of moments both good and bad, but all memorable. ESPN correspondents who were on the ground in Qatar share theirs.
Morocco receives a triumphant homecoming after historic fourth place at the World Cup
Thousands of cheering fans in Rabat greeted Morocco's players on Tuesday after reaching the World Cup semifinals in Qatar.
Croatia secure World Cup third place over Morocco, but both left wondering what could have been
Morocco and Croatia provided an entertaining and hard-fought third-place match to cap off their remarkable journeys in the 2022 World Cup.
Croatia claim narrow win over Morocco in World Cup third-place playoff
Croatia claimed a narrow 2-1 victory over Morocco on Saturday to ensure a third-place finish at the World Cup in Qatar.
The World Cup third-place playoff: giving us goals and entertainment
The World Cup third-place playoff is historically a very high-scoring affair and even Golden Boots have been won. Here are all the stats.
Morocco boss Regragui: Third-place play-off against Croatia 'worst game to play'
Morocco coach Walid Regragui has admitted Saturday's third-place play-off against Croatia is the "worst game" but is targeting a strong finish.
Croatia, Morocco battling for 'immortality' in World Cup third-place game, says Kramaric
"Immortality" is at stake when Croatia and Morocco meet in Saturday's World Cup third-place game, according to Andrej Kramaric.
Bayern Munich, Inter Milan continue to rule World Cup as 40-year run of finalists continues in Qatar
It is a gobsmacking fact: For the 11th time in a row, over a 40-year span, both Bayern and Inter Milan will be represented in the World Cup final.
World Cup 2022 award contenders: Lionel Messi, Kylian Mbappe battling for Golden Boot, Golden Ball
With just two 2022 World Cup games remaining, there are major individual honours as well as the trophy at stake for Lionel Messi and Kylian Mbappe.
France, Argentina set for World Cup final as Morocco's run halted; Messi, Mbappe chase Golden Boot
We have a World Cup final for the ages. After ending Morocco's fairytale tourney, France book a date with Argentina. Here's the latest from Qatar.
Morocco's inspirational World Cup run succeeded in putting traditional powers on notice
Morocco's run inspired Africa and the Arab world and proved that European and South American hegemony on the World Cup is being chipped away.
France loss doesn't taint Morocco's magical World Cup run - coach
Morocco coach Walid Regragui said his team's 2-0 semifinal loss to France at the World Cup doesn't take away from everything they did to get there.
France's win over Morocco sets up the chance for back-to-back World Cup wins
After beating Morocco in a semifinal that was closer than the 2-0 scoreline suggested, France now have a chance to win a second straight World Cup.
How will Morocco be remembered for their incredible World Cup run
Rob Dawson praises Morocco's performance at the World Cup after their 2-0 loss to France in the semifinals.
France end Morocco's fairytale run to set up World Cup final against Argentina
France beat Morocco 2-0 in the semifinals of the World Cup at the Al Bayt Stadium on Wednesday night to end the African side's dream run in Qatar.
Why Morocco didn't get a VAR penalty vs. France for Theo Hernandez's challenge on Sofiane Boufal
Morocco could have been given a penalty against France, but the decision went in favour of Les Bleus. What happened?
Team Leaders
Top Scorers
Top Assists