Manchester United
3rd in English Premier League
---
Transfer Talk: Man Utd, Chelsea want Victor Osimhen but Napoli eye €150m fee
Manchester United and Chelsea are interested in Victor Osimhen with Napoli looking for a €150 million fee. Transfer Talk has the latest.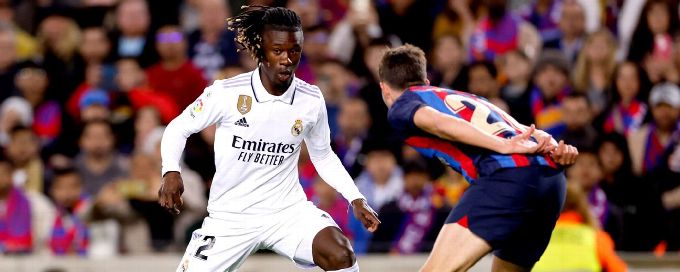 LIVE Transfer Talk: Real Madrid eye new Eduardo Camavinga deal to fend off Manchester United
Eduardo Camavinga is in line for a new Real Madrid contract to end the prospect of him joining Man United. Transfer Talk is LIVE with the latest.
Who remains in the race to buy Manchester United?
Rob Dawson updates on the race to buy Manchester United from the Glazer family.
Man United sale: Qatari sheikh to launch improved bid, Sir Jim Ratcliffe expected to make offer
A consortium led by Sheikh Jassim bin Hamad Al-Thani will make an improved bid on Wednesday to buy Manchester United, sources have told ESPN.
Fulham's Mitrovic, Silva charged over Manchester United FA Cup incidents
Aleksandar Mitrovic has been charged by the Football Association with violent conduct after shoving the referee in the Fulham-Manchester United tie.
LIVE Transfer Talk: Chelsea, Man United, Arsenal and Man City eye Southampton's Romeo Lavia
Romeo Lavia has been a bright spot for struggling Southampton, and top Premier League clubs have noticed. Transfer Talk is LIVE with the latest.
Barcelona's Clasico win could be decisive in LaLiga title race, Fulham lose their cool vs. Man United, more
Barcelona are closing on LaLiga after beating Real Madrid. Plus: Man United profit from Fulham's fury and Dortmund take charge in the Bundesliga.
Marcus Rashford to miss England's Euro 2024 qualifiers through injury
Marcus Rashford will miss England's Euro 2024 qualifiers against Italy and Ukraine this week after picking up an injury.
Is a new Man United deal a smart move for Ten Hag?
Gab Marcotti explains why he thinks Erik ten Hag should bide his time and not sign a new deal with Manchester United.
VAR Review: Fulham's 3 red cards at Man United, Newcastle's offside goal vs. Forest, Wolves rage
In this week's VAR Review: Unpacking Fulham's meltdown at Manchester United and Newcastle's goal disallowed for offside at Nottingham Forest.
Tempers boil over as Red Devils knock out 9-man Fulham
Fulham see their lead dissipate as two red cards set up Manchester United to claim a 3-1 FA Cup quarter-final victory.
Burley: Fulham lost the plot vs. Man United
Craig Burley thinks Fulham players losing their temper let Manchester United back in the game to win 3-1 in the FA Cup quarterfinals.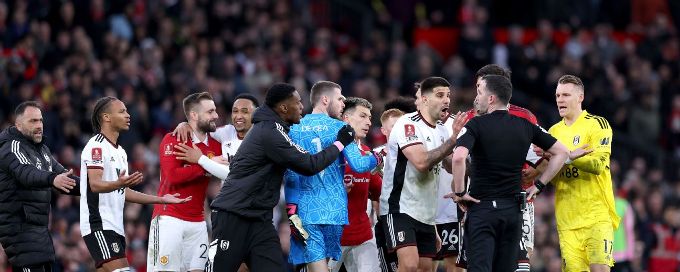 Man United seize on Fulham's indiscipline to book FA Cup semifinal spot
Man United weren't at their best on Sunday but cruised into the FA Cup semifinals thanks to Fulham's trio of red cards in the second half.
Man United avoid Man City in FA Cup semifinal draw, could meet in final
Manchester United could face Manchester City in the FA Cup final after the rival clubs avoided each other in semifinal draw.
Manchester United on to Wembley after Fulham reduced to 9 men
A disastrous penalty incident for Fulham that saw two players sent off was the turning point in Manchester United's 3-1 win in the FA Cup quarterfinals.
Man United overcome 9-man Fulham with chaotic comeback to reach FA Cup semifinals
Manchester United scored twice in two minutes to come from behind to beat Fulham 3-1 at Old Trafford on Sunday.
Erik ten Hag confirms meeting with potential Man United buyer Sir Jim Ratcliffe
Erik ten Hag confirmed he met potential Manchester United owner Sir Jim Ratcliffe on Friday amid the British billionaire's talks to buy the club.
Laurens: Man United must be happy with the UEL draw
Julien Laurens believes Erik ten Hag will be happy with playing Jorge Sampaoli's Sevilla in the quarterfinals of the Europa League.
Spain name new-look squad as Kepa returns and De Gea misses out again
Luis de la Fuente decided on a major overhaul in his first selection as Spain boss ahead of the Euro 2024 qualifiers.
Man United drawn against Sevilla in Europa League quarterfinals, could face Jose Mourinho in final
Manchester United have been drawn to face Sevilla in the Europa League quarterfinals in a repeat of the 2020 semifinal.
LIVE Transfer Talk: Man United ready to enter the race for Dortmund's Jude Bellingham
Manchester United are joining Man City, Liverpool and Real Madrid in the race to sign Jude Bellingham. Transfer Talk is LIVE with the latest.
LIVE Transfer Talk: Manchester United eye €120 million swoop for Randal Kolo Muani
Man Utd are considering making an offer worth €120m to land Frankfurt striker Randal Kolo Muani, according to reports. Transfer Talk has the latest.
Should Ten Hag have rested his Man Utd stars vs. Real Betis?
Janusz Michallik defends Erik ten Hag for sticking with a strong lineup in Manchester United's win over Real Betis.
Rashford does it again as Man United ease past Real Betis into Europa League quarterfinals
Marcus Rashford scored his 27th goal of the season to ensure Real Betis posed no threat to Man United's Europa League quarterfinal aspirations.
Marcus Rashford seals Man United's spot in Europa League quarterfinals
Manchester United eased into the Europa League quarterfinals after a Marcus Rashford goal secured a 1-0 win at Real Betis on Thursday.
Team Leaders
Top Scorers
| # | Player | Goals | M | A |
| --- | --- | --- | --- | --- |
| 10 | Marcus Rashfor.. | 14 | 26 | 3 |
| 8 | Bruno Fernande.. | 5 | 25 | 6 |
| 25 | Jadon Sancho | 4 | 14 | 1 |
Top Assists
| # | Player | Assists | M | G |
| --- | --- | --- | --- | --- |
| 14 | Christian Erik.. | 7 | 19 | 1 |
| 8 | Bruno Fernande.. | 6 | 25 | 5 |
| 10 | Marcus Rashfor.. | 3 | 26 | 14 |