Manchester United
9th in English Premier League
---
Man United fans fly 'Glazers Out' banner over Tampa NFL stadium
A group of Manchester United supporters based in the USA have flown a banner reading 'Glazers out' over the Raymond James Stadium in Florida.
Manchester United's Sancho urged to apologise to Ten Hag - source
Jadon Sancho has been urged to apologise to Erik ten Hag by his Manchester United teammates, a source has told ESPN.
European soccer news: Real Madrid falter, Spurs hold Arsenal
Atletico give Real Madrid a reality check; Spurs close the gap on Arsenal; Liverpool poised to challenge Man City, and more.
Marcus Rashford uninjured in car crash after Burnley win
Marcus Rashford walked away unhurt after being involved in a car crash following Manchester United's 1-0 win over Burnley on Saturday.
Hutchison: Man United got a must 3 points vs. Burnley
Don Hutchison breaks down Manchester United's 1-0 win over Burnley.
Man United can always count on Bruno Fernandes to deliver
Manchester United have stars and they have leaders, but only Bruno Fernandes checks both boxes, and he delivered a win over Burnley on Saturday.
Jonny Evans: 200th Man United game 'best night of my life'
Jonny Evans said Manchester United's 1-0 win at Burnley was the "best night of my life" after the 35-year-old marked his first start for the club since 2015 with an outstanding performance for Erik ten Hag's team.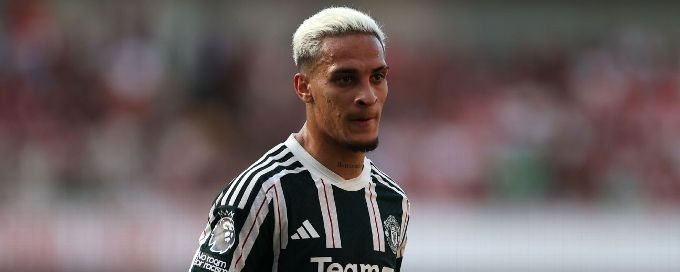 Man United's Antony left out by Brazil amid abuse allegations
Brazil coach Fernando Diniz on Saturday left Manchester United winger Antony out of his squad for the team's upcoming World Cup qualifiers in October as the player faces claims of violence towards women.
Fernandes stunner gives Man United much-needed win over Burnley
Manchester United captain Bruno Fernandes struck a sublime volley to earn a 1-0 victory at Burnley in the Premier League on Saturday as Erik ten Hag's side ended a three-match losing streak in all competitions.
Man United boss Ten Hag unable to explain defensive woes
Erik ten Hag has admitted he doesn't know why his Manchester United team have conceded so many goals during their shaky start to the season.
Ten Hag denies dressing room rift: 'Everyone is united'
Erik ten Hag has played down suggestions of a split in the Manchester United dressing room following their poor start to the season.
Gomez rubbishes Ten Hag's 'mind-numbing' comments on Davies
Herculez Gomez reacts to Erik ten Hag's comments about Alphonso Davies' defensive ability.
Man United dream XI under Solskjaer: Kane, Bellingham, more
Ole Gunnar Solskjaer says he wanted Manchester United to sign a number of world-class players, so what would their XI look like now if they had?
Transfer Talk: Dortmund say no as Sancho plans Man United exit
Where Jadon Sancho's future lies is anyone's guess, with former club Dortmund pulling out of the running to sign the unhappy Man Utd star. Transfer Talk has the latest.
Where would Man Utd be with Solskjaer's wish-list fulfilled?
Gab and Juls wonder where Manchester United would be now with Ole Gunnar Solskjaer and his dream trio of Erling Haaland, Declan Rice and Jude Bellingham.
Is Hojlund's start at Man United a promising sign for Ten Hag?
Gab & Juls analyse Rasmus Hojlund's performance in Man United's 4-3 loss to Bayern Munich in the Champions League.
Ten Hag on Onana's mistake: Don't make it bigger than it is
Manchester United's Erik Ten Hag talks about the team and Andre Onana's performances after the 4-3 loss vs. Bayern Munich.
Bayern put away Red Devils, Gunners return to UCL in style
Manchester United prove no match for Harry Kane and Bayern Munich, while Arsenal thump PSV Eindhoven 4-0.
André Onana: Man United lost to Bayern Munich 'because of me'
André Onana says he was to blame for Manchester United's defeat at Bayern Munich while admitting the start to his career at Old Trafford has been "not so good."
Man United's season already falling apart after Bayern loss
Man United have conceded 3 goals in 3 straight games for the first time since 1978, a sign of how far they've fallen amid Champions League loss.
Burley: Manchester United folded after Onana mistake
Craig Burley breaks down what went wrong for Manchester United in their loss to Bayern Munich in the Champions League.
Harry Kane scores in Bayern Munich win over Manchester United
Bayern Munich struck twice in four minutes in the first half to set them on their way to a 4-3 victory over an embattled Manchester United on Wednesday and make a winning start in Champions League Group A.
Solskjaer admits Ronaldo return to Man United 'turned out wrong'
Former Manchester United manager Ole Gunnar Solskjaer said he sympathises with current incumbent Erik ten Hag who is under pressure after a poor start to the season.
Champions League live matchday updates: Man United vs. Bayern
The latest updates and analysis from matchday 1 of the 2023-24 Champions League season, with Man United playing Bayern Munich.
Kane: Man United can be dangerous despite tough spell
Harry Kane speaks ahead of Bayern Munich taking on Manchester United in the Champions League.
Team Leaders
Top Scorers
| # | Player | Goals | M | A |
| --- | --- | --- | --- | --- |
| 8 | Bruno Fernande.. | 2 | 6 | 1 |
| 10 | Marcus Rashfor.. | 1 | 6 | 1 |
| 18 | Casemiro | 1 | 6 | 0 |
Top Assists
| # | Player | Assists | M | G |
| --- | --- | --- | --- | --- |
| 8 | Bruno Fernande.. | 1 | 6 | 2 |
| 10 | Marcus Rashfor.. | 1 | 6 | 1 |
| 6 | Lisandro Martí.. | 1 | 5 | 0 |