---
Tottenham Hotspur trounce Ludogorets to top Europa League group
Tottenham Hotspur made short work of Ludogorets Razgrad in a 4-0 Group J topping win in the Europa League on Thursday night.
Spurs boss Mourinho says Klopp must adapt to hectic schedule
Liverpool manager Juergen Klopp has criticized broadcasters over hectic match scheduling that he thinks is leading to more player injuries but his T
Marcotti: Harry Kane is the story of the season so far
Gab Marcotti believes Harry Kane is the type of individual match winner to lead Spurs to the title.
Kane scores 200th goal for Spurs in Europa League win
Harry Kane scored his 200th career goal for Tottenham Hotspur in his 300th appearance for the club in a Europa League group stage win.
Inter secure Europa League passage at empty San Siro due to virus
Inter Milan came from behind to beat Bulgarian side Ludogorets Razgrad 2-1 to reach the Europa League last 16 at an eerily quiet San Siro.
Christian Eriksen scores first Inter goal in Europa League win
Christian Eriksen scored his first goal for Inter in the club's 2-0 win over Ludogorets Razgrad in Europa League round-of-32 action on Thursday.
Borini on target as AC Milan complete job against Ludogorets
Fabio Borini completed AC Milan's triumph over Ludogorets Razgrad, with a 1-0 home victory capping off a 4-0 aggregate win.
AC Milan take control of Europa League tie with 3-0 win
AC Milan eased to a 3-0 victory away to Ludogorets Razgrad with goals from Patrick Cutrone, Ricardo Rodriguez and Fabio Borini.
Ludogorets drop first leg in Champions League qualifier; Legia Warsaw win
One year after reaching the group stage, Ludogorets Razgrad lost the first leg of their opening Champions League qualifier on Wednesday.
Zlatan Ibrahimovic hat trick carries Man United; Tottenham lose first leg
Zlatan Ibrahimovic's hat trick gave Manchester United a 3-0 win against St Etienne in a Europa League round of 32 first-leg clash at Old Trafford.
Ludogorets' Jody Lukoki: Paris Saint-Germain are not playing like a team
Ludogorets Razgrad's Jody Lukoki has revealed his surprise at how easy it was to play against Paris Saint-Germain in Tuesday's 2-2 draw.
PSG settle for second in Group A after being held by Ludogorets
A win would have seen PSG through as group winners, but they twice fell behind to their Bulgarian opponents.
PSG boss Unai Emery: Topping the group is still important
Paris Saint-Germain boss Unai Emery has told his side to keep their eyes on the prize of finishing top of Champions League Group A.
Goalless draw leaves Ludogorets and Basel battling for Europa League
Ludogorets' and Basel's battle to get out of the Champions League and into the Europa League will go to the sixth matchday after a goalless draw.
Basle and Ludogorets chase Europa League consolation
Mesut Ozil nets late winner as Arsenal come from behind to win at Ludogorets
Familiar shortcomings reappeared for Arsenal as they went down 2-0 away to Ludogorets, but Mesut Ozil completed the comeback in spectacular fashion.
Ozil caps three-goal fightback as Arsenal beat Ludogorets
Arsenal needed a three-goal fightback to take all three points against Ludogorets Razgrad with a 3-2 win in Champions League Group A play on Tuesday.
Arsenal striker Olivier Giroud happy to put team first
Ludogorets playing to avoid repeat of 6-0 Arsenal loss - Dermendzhiev
Ludogorets coach Georgi Dermendzhiev will approach Arsenal with more caution when they meet in Sofia on Tuesday night.
Trending: Lionel Messi and Mesut Ozil score Champions League hat tricks
Barcelona star Lionel Messi scored his 37th club hat trick while Arsenal playmaker Mesut Ozil netted the first trio of goals of his career.
Ozil earns perfect 10 after bagging first career hat trick
Mesut Ozil scored his first career hat trick as Arsenal stylish picked apart Ludogrets 6-0 in Group A of the Champions League.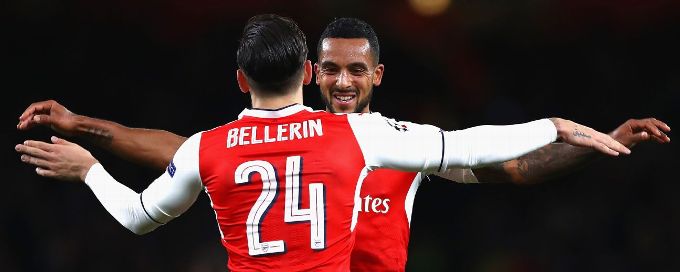 Mesut Ozil scores his first hat trick in Arsenal's 6-0 demolition of Ludogorets
After a 6-0 demolition of Ludogorets, Arsenal look to be in the kind of sleek, goal-scoring form that will keep them at the top of their UCL group.
Ludogorets wing wizard Jonathan Cafu destined for bigger things in Europe
Another spectacular goal against Arsenal on Wednesday could put Ludogorets' Brazilian winger Jonathan Cafu into the prime time, writes Michael Yokhin.
Mesut Ozil hits hat trick as Arsenal hammer Ludogorets Razgrad
In-form Arsenal produced a dominant display illuminated by a Mesut Ozil hat trick as they breezed past Ludogorets 6-0 at the Emirates.
Arsene Wenger: I never considered selling Theo Walcott in the summer
Team Leaders
Top Scorers
| # | Player | Goals | M | A |
| --- | --- | --- | --- | --- |
| 9 | Thiago | 2 | 2 | 0 |
| 1 | Sergio Padt | 0 | 2 | 0 |
| 32 | Igor Plastun | 0 | 2 | 0 |
Top Assists
| # | Player | Assists | M | G |
| --- | --- | --- | --- | --- |
| 11 | Kiril Despodov | 2 | 2 | 0 |
| 1 | Sergio Padt | 0 | 2 | 0 |
| 32 | Igor Plastun | 0 | 2 | 0 |