Lille
6th in French Ligue 1
---
Lille held to 2-2 draw after Rennes fightback
Lille let a two-goal lead slip against Stade Rennais as the hosts fought back bravely to earn a 2-2 draw in Ligue 1 on Saturday.
Ten-man Lille earns first win of season by downing Nantes 2-0 in French league
Jonathan David and Adam Ounas scored to give 10-man Lille its first win of the season with a 2-0 victory over Nantes in the French league on Sunday.
FC 100 best men's soccer strikers, 2022-23
Who were the best strikers in men's football in 2022-23? Our analysts from around the world make their case in this year's edition of the ESPN FC 100.
USMNT's Tim Weah completes Juventus move from Lille
Juventus have completed the signing of United States winger Timothy Weah from Lille, the Serie A club announced on Saturday.
USMNT forward Tim Weah arrives in Turin ahead of Juventus move
United States forward Timothy Weah has arrived in Turin, Juventus said on Wednesday, ahead of the player's move to the Serie A club from Ligue 1 side Lille.
Would a transfer to Juventus be the wrong move for Tim Weah?
Julien Laurens and Nedum Onuoha wonder whether Timothy Weah would be a regular starter for Juventus.
LIVE Transfer Talk: Juventus eyeing USMNT's Tim Weah
Juventus are keen on signing USMNT star Timothy Weah from Lille. Transfer Talk has the latest.
Lille grab 2-1 victory against Marseille
Lille came from a goal down to earn a home 2-1 win over Olympique Marseille in Ligue 1 on Saturday as the race for the Champions League places intensified.
Gomes scores twice as Lille beats Ajaccio in Ligue 1
— Portuguese midfielder Andre Gomes scored twice as Lille thrashed Ajaccio 3-0 in the French league to consolidate fifth place and pull within two points of a Europa League spot on Saturday.
David's goal not enough as Lille draws at Auxerre
— Jonathan David's 21st goal of the season wasn't enough for Lille as it drew at Auxerre 1-1 in the French league on Saturday.
Angers wins first match in 22 French league games
— Rock-bottom Angers beat Lille 1-0 at home on Saturday to win for the first time in 22 French league games.
LIVE Transfer Talk: Juventus tracking United States star Timothy Weah
United States star Timothy Weah could be in line for a blockbuster move to Serie A giants Juventus. Transfer Talk has the latest.
Chelsea in crisis, PSG break Lille hearts, Napoli unstoppable: Weekend Review
Another weekend of European football is in the books and, as usual, there have been plot twists and upsets galore. Here's ESPN's Weekend Review.
Mbappe, Messi inspire PSG to 4-3 win against Lille
— Paris Saint-Germain was only minutes away from a fourth consecutive loss on Sunday when Kylian Mbappe and Lionel Messi came to the rescue to avert a major crisis at the Qatari-backed club.
Lionel Messi bags last-gasp free kick to earn PSG 4-3 win over Lille
Lionel Messi scored a stunning free kick in added time to earn Paris St Germain a 4-3 comeback win over Lille on Sunday.
Transfer Talk: Ronaldo behind Leao, David, Toney on Chelsea's shortlist
Chelsea co-owner Todd Boehly remains keen on Ronaldo but will back Graham Potter's pursuit of other targets. Transfer Talk has the latest.
Lille edge Monaco with Cabella double in storming home win
Lille midfielder Remy Cabella struck twice to help his side to a hard-fought 4-3 win at home against AS Monaco in an electrifying Ligue 1 clash on S
Lille extends 4-year unbeaten run against Strasbourg by 3-0
— Strasbourg's optimism after its first win in the French league was trampled on by bogey team Lille on Friday.
LIVE Transfer Talk: Man United eye move for Lille defender Botman
Manchester United are interested in signing Lille centre-back Sven Botman this summer. Transfer Talk has the latest.
Lille end Lens's unbeaten run in northern derby
RC Lens's unbeaten run in Ligue 1 came to an end when Jonathan David's penalty earned Lille a 1-0 home victory in the northern derby on Sunday.
LIVE Transfer Talk: AC Milan eye Lille's Jonathan David amid Divock Origi struggles
AC Milan are considering signing a new striker with Lille's Jonathan David and FC Salzburg's Noah Okafor on the list. Transfer Talk has the latest.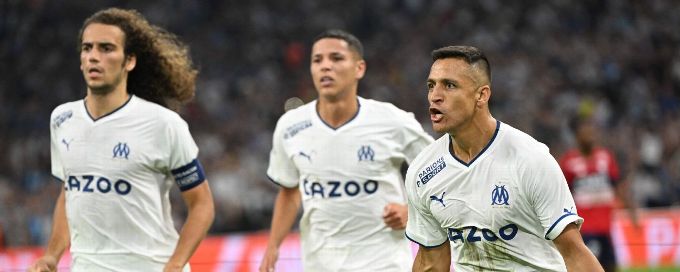 Marseille come from behind to beat Lille 2-1
Marseille kept a grip on second place in Ligue 1 when goals by Alexis Sanchez and Samuel Gigot earned a 2-1 home win over Lille on Saturday.
Lille bounce back with 3-1 win at Ajaccio
Lille bounced back from a humiliating home thumping by Paris Saint-Germain last weekend to win 3-1 at newly-promoted Ajaccio on Friday.
PSG thrash Lille with Kylian Mbappe hat trick, Neymar brace
Kylian Mbappe scored the fastest Ligue 1 goal for 30 years to set champions Paris Saint-Germain on their way to a runaway 7-1 victory at Lille.
Americans in Europe: Where the USMNT's World Cup hopefuls are playing across the Atlantic
With the World Cup looming, the start of this European club season is vital, so where on the continent are the USMNT's hopefuls playing in 2022-23?
Team Leaders
Top Scorers
| # | Player | Goals | M | A |
| --- | --- | --- | --- | --- |
| 9 | Jonathan David | 2 | 5 | 0 |
| 18 | Bafodé Diakité.. | 2 | 4 | 0 |
| 12 | Yusuf Yazici | 1 | 5 | 0 |
Top Assists
| # | Player | Assists | M | G |
| --- | --- | --- | --- | --- |
| 8 | Angel Gomes | 2 | 5 | 0 |
| 10 | Rémy Cabella | 1 | 5 | 0 |
| 17 | Ivan Cavaleiro | 1 | 4 | 0 |