Lazio
15th in Italian Serie A
---
Struggling Lazio held to 1-1 draw by Monza
Lazio's poor start to the Serie A season continued with a 1-1 home draw against Monza on Saturday, after Ciro Immobile's penalty was cancelled out by a tap-in for the visitors' Roberto Gagliardini.
Provedel joins Champions League goal-scoring goalkeepers club
After Lazio keeper Ivan Provedel scored on Tuesday, here are the other members of the UEFA Champions League's Grand Order of Goal-Scoring Goalies.
Lazio goalkeeper Provedel 2nd ever to score non-penalty in UCL
Lazio goalkeeper Ivan Provedel came forward and headed in a stoppage-time equalizer to earn the Roman club a 1-1 draw with Atletico Madrid in the Champions League on Tuesday.
Leboeuf: Provedel's equalizer for Lazio is a 'fairy tale'
Frank Leboeuf talks about Lazio keeper Ivan Provedel scoring an equalizer against Atletico Madrid in his first Champions League start.
Lazio keeper Provedel scores late equalizer against Atletico Madrid
Lazio goalkeeper Ivan Provedel secured a crucial point for his team against Atletico Madrid on Tuesday when he headed in the equaliser late in a 1-1 draw.
European club kit ranking: Who has 2023-24's best threads?
We've scrutinised every jersey unveiled by the biggest clubs in Europe's top leagues -- a European Super League of Kits, if you will. Who is No. 1?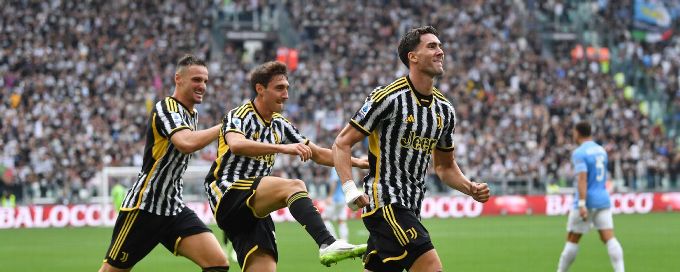 Vlahovic bags double as Juventus cruise past rivals Lazio
Juventus beat Lazio 3-1 at home on Saturday and provisionally moving top of the league after a brace from Dusan Vlahovic.
European soccer news: Rice haunts Man Utd; new-look Man City
Arsenal pile on Man United, Barcelona look unconvincing, Man City's dominance continues, Jude Bellingham scores for Real Madrid and more.
Lazio beat champions Napoli 2-1 for first win of the season
Lazio's Luis Alberto and Daichi Kamada secured a 2-1 win for last season's runners-up at champions Napoli in Serie A on Saturday to earn Maurizio Sarri's side their first points of the season, while the hosts suffered their first defeat.
NYCFC complete transfer of Castellanos to Lazio for record fee
New York City FC announced the sale of star forward Valentin "Taty" Castellanos to Italian side S.S. Lazio on Friday for a team-record transfer fee.
Saudi's Al-Hilal sign Milinkovic-Savic from Lazio
Serbia midfielder Sergej Milinkovic-Savic has joined Al Hilal from Serie A side Lazio, the Saudi Arabian club announced on Wednesday.
Soccer's coaching tree: Modern game's roots go beyond Cruyff
Johan Cruyff has his fingerprints all over modern football, but the story of the game's evolution can't be told without the likes of Ralf Rangnick.
Lazio finish 2nd in Serie A after 2-0 win at Empoli
Alessio Romagnoli and Luis Alberto emerged as the saviours for Lazio when they scored in a 2-0 win at Empoli on Saturday, giving the visitors a second-place finish in Serie A.
Milinkovic-Savic double sends Lazio back up to second
Midfielder Sergej Milinkovic-Savic scored a last-minute winner, his second goal of the game, to earn Lazio a 3-2 victory at home against Cremonese on Sunday that sent them back up to second place in Serie A.
Immobile penalty sends Lazio into third with win over Udinese
Lazio moved up to third in Serie A as a second-half penalty by Ciro Immobile secured a 1-0 victory at mid-table Udinese on Sunday and boosted their Champions League qualifying hopes.
Milinkovic-Savic heads in late equalizer for Lazio against Lecce
— Sergej Milinkovic-Savic equalized in stoppage time for Lazio to draw with relegation-threatened Lecce 2-2 in Serie A on Friday.
Late goal gives Lazio a 2-2 draw against Lecce
Lazio dropped points in their pursuit of a top-four place in Serie A despite Sergej Milinkovic-Savic's late goal in a 2-2 home draw with Leece.
AC Milan beats Lazio to boost top-4 hopes but loses Leão
— AC Milan moved back into the Serie A top four after beating Lazio 2-0 at the possible expense of injured forward Rafael Leão on Saturday, four days before the Champions League semifinals.
Milan see off Lazio to keep top-four hopes alive
An early goal by Ismael Bennacer and a Theo Hernandez stunner gave AC Milan a much-needed 2-0 home win over Lazio in Serie A on Saturday.
Lazio beat Sassuolo to keep Napoli title party on hold
Lazio secured a 2-0 home win over Sassuolo on Wednesday to keep Napoli waiting to clinch the Serie A title and return to second place.
Lautaro Martinez brace helps Inter Milan earn fightback win over Lazio
Inter Milan came from a goal down to win 3-1 at home against Lazio in Serie A on Sunday, thanks to a Lautaro Martinez double.
Napoli a win away from Serie A title after Inter beats Lazio
— Napoli now needs only to beat Salernitana later Sunday to win its first
Torino snatch 1-0 win at Lazio
A first-half goal by midfielder Ivan Ilic secured Torino a surprise 1-0 win at second-placed Lazio in Serie A on Saturday.
Lazio's Ciro Immobile in hospital with rib, back injuries after car crash
Lazio's Ciro Immobile is under observation in hospital after he fractured his rib and hurt his back in a car crash in Rome, the Serie A club said.
Lazio cement second spot with 3-0 win over Spezia
Lazio's Ciro Immobile, Felipe Anderson and Marcos Antonio were all on target in a 3-0 win over struggling Spezia in Serie A on Friday.
Team Leaders
Top Scorers
| # | Player | Goals | M | A |
| --- | --- | --- | --- | --- |
| 10 | Luis Alberto | 2 | 5 | 1 |
| 17 | Ciro Immobile | 2 | 5 | 0 |
| 6 | Daichi Kamada | 1 | 4 | 1 |
Top Assists
| # | Player | Assists | M | G |
| --- | --- | --- | --- | --- |
| 7 | Felipe Anderso.. | 2 | 5 | 0 |
| 10 | Luis Alberto | 1 | 5 | 2 |
| 6 | Daichi Kamada | 1 | 4 | 1 |