Juventus
4th in Italian Serie A
---
LIVE Transfer Talk: USMNT's McKennie yet to earn new Juve deal
Juventus aren't convinced on renewing Weston McKennie's contract and need to see more of the USMNT midfielder. Transfer Talk is LIVE the latest.
Juventus concede bizarre own goal in 4-2 loss to Sassuolo
Juventus' unbeaten start to the season ended with a 4-2 loss at Sassuolo after Wojciech Szczesny's goalkeeping errors contributed to their defeat in Serie A on Saturday.
European club kit ranking: Who has 2023-24's best threads?
We've scrutinised every jersey unveiled by the biggest clubs in Europe's top leagues -- a European Super League of Kits, if you will. Who is No. 1?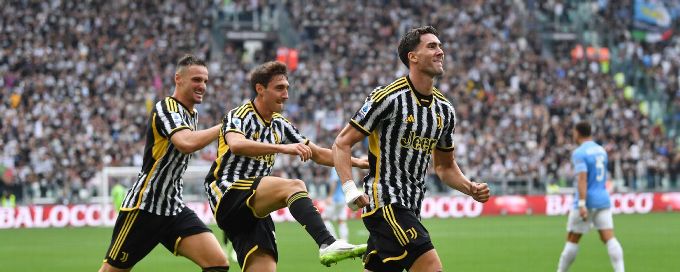 Vlahovic bags double as Juventus cruise past rivals Lazio
Juventus beat Lazio 3-1 at home on Saturday and provisionally moving top of the league after a brace from Dusan Vlahovic.
LIVE Transfer Talk: Partey on Juve list of Pogba replacements
Arsenal midfielder Thomas Partey is joined by the likes of Manu Kone and Habib Diarra on Juventus' shortlist to replace Paul Pogba. Transfer Talk has the latest.
Leonardo Bonucci to file lawsuit against Juventus over exit
Italy defender Leonardo Bonucci said he will take legal action against former club Juventus after a reported fallout with manager Massimiliano Allegri led to his exit.
Can Pogba face a 4-year suspension after testing positive for testosterone?
Gab Marcotti and Julien Laurens talk about Paul Pogba's situation after failing a doping test.
Paul Pogba failed doping test due to supplement - source
Paul Pogba admitted to Juventus that he took some nutritional supplements not knowing they contained testosterone, a source told ESPN.
Laurens: 4-year suspension would surely end Pogba's career
Julien Laurens gives the latest on Paul Pogba after the Juventus midfielder tested positive for testosterone.
Juventus' Paul Pogba positive for testosterone, risks 4-year ban
Juventus midfielder Paul Pogba tested positive for testosterone, Italy's anti-doping agency announced Monday, and has been suspended with immediate effect.
Can Pogba still contribute for Juventus?
Gab Marcotti and Don Hutchison discuss Paul Pogba's future after the midfielder admitted he considered retiring over an extortion case.
Pogba considered retiring from football over extortion case
Paul Pogba said he considered retiring from football due to an alleged organised armed extortion attempt against him which involved his brother.
USA's Weston McKennie has 'point to prove' in Juventus return
Weston McKennie wants to prove he's worthy to Juventus and its fans after returning for a second spell with the club after being loaned to Leeds United.
Chiesa and Danilo on target as wasteful Juventus win at Empoli
Goals from Danilo and Federico Chiesa earned Juventus a 2-0 victory at Empoli in Serie A on Sunday, with the visitors squandering several other chances and missing a penalty.
Transfer window countdown: What do the big clubs still need?
The transfer window closes for the top European leagues on Friday, so we take a look at what business is left to do for the big clubs.
Late Vlahovic header rescues draw for Juventus against Bologna
Juventus bounced back from a lacklustre first half to secure a 1-1 home draw against Bologna in Serie A on Sunday, thanks to a late equaliser from Dusan Vlahovic.
Brighton in the Champions League? Wild Week 1 overreactions
The big European leagues have just returned, so how about some hot takes? From Champions League to unlikely winners, it's time for some overreactions.
Warmup kits: The good, bad and ugly from Europe's top clubs
Here we present a rogue's gallery of the best and worst of the 2023-24 prematch shirts that are being paraded around stadiums across the continent.
Juventus use dominant first half for 3-0 win over Udinese
Federico Chiesa, Dusan Vlahovic and Adrien Rabiot scored for Juventus on Sunday for a comfortable 3-0 win at Udinese in their Serie A opener.
European soccer news: Barcelona, Juventus win; Chelsea flat
Barcelona grind out a win in their return to the iconic Olympic Stadium and Chelsea struggle despite the big signings. Here's what you missed Sunday.
LIVE Transfer Talk: Chelsea, Juve won't swap Vlahovic-Lukaku
Chelsea will not proceed with a swap deal for Dusan Vlahovic as Juventus wants €40 million and Romelu Lukaku. Transfer Talk is LIVE with the latest.
However you measure it, Gianluigi Buffon is one of the greats
How can you describe Gigi Buffon's career that spanned parts of four decades and reached the pinnacles of the game? However you quantify it, he's one of the all-time greats.
Juventus beat Real Madrid as USMNT's Timothy Weah scores
Juventus rode two first-half goals -- including one by Timothy Weah -- to a 3-1 win over Real Madrid at Camping World Stadium in Orlando, Florida, on Wednesday.
Timothy Weah scores to put Juventus up 2-0
Juventus' Timothy Weah hooks a right-footed shot from the center of the box to go up 2-0 over Real Madrid.
Juventus, Italy legend Buffon retires from football aged 45
Juventus and Italy great Gianluigi Buffon has announced his retirement from professional football at the age of 45.
Team Leaders
Top Scorers
| # | Player | Goals | M | A |
| --- | --- | --- | --- | --- |
| 7 | Federico Chies.. | 4 | 5 | 0 |
| 9 | Dusan Vlahovic | 4 | 5 | 1 |
| 6 | Danilo | 1 | 5 | 0 |
Top Assists
| # | Player | Assists | M | G |
| --- | --- | --- | --- | --- |
| 25 | Adrien Rabiot | 1 | 5 | 1 |
| 3 | Bremer | 1 | 5 | 0 |
| 5 | Manuel Locatel.. | 1 | 5 | 0 |