Borussia Dortmund
6th in German Bundesliga
---
Transfer Talk: Manchester United fall behind Liverpool in race to sign England star Jude Bellingham
Manchester United have fallen back in the race to sign England midfielder Jude Bellingham. Transfer Talk has the latest.
Soccer's Black Friday 2022 gift guide: Club-branded microwaves, rubber ducks and the last trace of Ronaldo at Man United
With the Black Friday sales are upon us, here is some of the weird and wonderful branded merchandise that major clubs are hawking to their fans.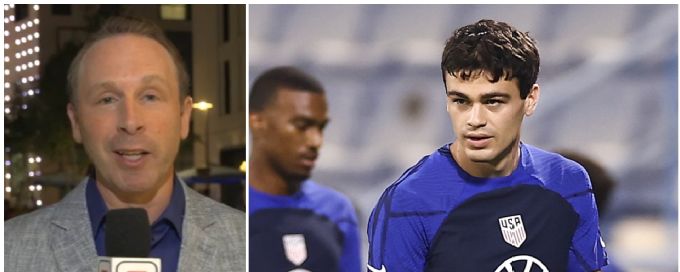 Gio Reyna features in USMNT training ahead of England clash
Sam Borden reports from Doha as Gio Reyna features in training in front of the media ahead of Friday's crucial match against England.
Transfer Talk: Liverpool lead for Bellingham as Real Madrid balk at Borussia Dortmund's €150m demand
Real Madrid currently have no plans to meet Borussia Dortmund's valuation for Jude Bellingham. Transfer Talk has the latest.
Jude Bellingham is World Cup star with highest transfer value, England most valuable squad - CIES study
According to the CIES Football Observatory, the combined transfer value of every single player at the 2022 World Cup in Qatar is €15 billion.
Dortmund's Sebastian Haller to undergo surgery on tumour
Borussia Dortmund striker Sebastien Haller said he will undergo further surgery for a testicular tumour that has kept the player sidelined.
How top clubs from Arsenal to Bayern Munich are spending the World Cup break
What will Europe's top clubs be doing while their star players are at the World Cup? Everyone, from Arsenal to Barcelona, has work to do.
Gab and Juls confused by Dortmund's approach to Bellingham's future
Gab Marcotti and Julien Laurens can't understand Borussia Dortmund's stance on the future of midfielder Jude Bellingham.
Jude Bellingham can leave Dortmund next summer if he wants - chief executive
Jude Bellingham can leave Dortmund next summer if he wishes, the German club's chief executive Hans-Joachim Watzke has said.
Gladbach crush Dortmund 4-2 for second straight defeat
Borussia Monchengladbach fired four goals past hapless Borussia Dortmund for a 4-2 victory on Friday to leave their opponents in sixth place.
Dortmund's teen sensation Youssoufa Moukoko deserves place in Germany World Cup squad full of surprises and heartwarming stories
ESPN's Derek Rae breaks down Germany's World Cup squad including the surprise call-up of Dortmund's sparkling 17-year-old striker Youssoufa Moukoko.
LIVE Transfer Talk: Man United and Liverpool chase Dortmund's Moukoko
Man United and Liverpool see Youssoufa Moukoko, 17, as a long-term striker solution. Will he leave Dortmund? Transfer Talk is LIVE with the latest.
Wolfsburg stun Borussia Dortmund to stretch unbeaten run
VfL Wolfsburg scored at the start and at the end of the game to battle past Borussia Dortmund 2-0 on Tuesday in the Bundesliga.
Will Gio Reyna be a breakout star for the USMNT at the World Cup?
The Futbol Americas crew believe Giovanni Reyna's form for Borussia Dortmund can only be a positive for the USMNT.
LIVE Transfer Talk: Barcelona's post-Lewandowski plan could be Borussia Dortmund's Moukoko
Barcelona see Borussia Dortmund's Youssoufa Moukoko as the eventual replacement for Robert Lewandowski. Transfer Talk has the latest.
Arsenal are legit contenders, Pique bids Barcelona farewell, Almiron and Newcastle shine: Weekend Review
Arsenal claimed bragging rights over Chelsea, a club icon took a bow at Barcelona and things aren't great at Atletico. It's ESPN's Weekend Review.
World Cup hopeful Moukoko dazzles as Dortmund beat Bochum 3-0
World Cup hopeful Youssoufa Moukoko scored twice as Borussia Dortmund cruised past local Ruhr rivals VfL Bochum 3-0 on Saturday.
Moukoko scores two stunners in Dortmund win
Youssoufa Moukoko scores two fantastic goals as Borussia Dortmund canter to an easy 3-0 win over VfL Bochum.
The battle for Bellingham: Liverpool close in as Real Madrid lurk
The battle for Borussia Dortmund's Jude Bellingham is hotting up, with Liverpool in pole position -- ESPN's Insider Notebook has the latest.
Champions League last-16 Power Rankings: Can anyone stop Man City or Bayern?
The Champions League last 16 is here! So let's break down the remaining teams by who has the most chance of winning it all.
Transfer Talk: Manchester United prioritise Borussia Dortmund's Jude Bellingham
Manchester United are set to make Borussia Dortmund's Jude Bellingham their primary target for next summer. Transfer Talk has the latest.
Copenhagen break UCL duck in draw with Dortmund
FC Copenhagen scored their first goal in this season's Champions League campaign as they drew 1-1 with already qualified Borussia Dortmund.
Jude Bellingham nets winner as Borussia Dortmund beat Eintracht Frankfurt
England international Jude Bellingham scored his third league goal of the season to give Borussia Dortmund a 2-1 victory over Eintracht Frankfurt.
Team Leaders
Top Scorers
| # | Player | Goals | M | A |
| --- | --- | --- | --- | --- |
| 18 | Youssoufa Mouk.. | 6 | 14 | 4 |
| 19 | Julian Brandt | 4 | 15 | 2 |
| 22 | Jude Bellingha.. | 3 | 15 | 2 |
Top Assists
| # | Player | Assists | M | G |
| --- | --- | --- | --- | --- |
| 18 | Youssoufa Mouk.. | 4 | 14 | 6 |
| 22 | Jude Bellingha.. | 2 | 15 | 3 |
| 4 | Nico Schlotter.. | 2 | 15 | 1 |