Club Brugge
3rd in Belgian Pro League
---
Champions League talking points: Does five-goal Haaland make Man City favourites? Is VAR getting worse?
With this season's Champions League quarterfinalists now set, our writers answer some of the big questions arising from the round-of-16 second legs.
Benfica crush Brugge 5-1 to reach Champions League quarterfinals
Clinical Benfica thrashed shell-shocked Club Brugge 5-1 to knock them out of the Champions League and reach the quarter finals 7-1 on aggregate.
Champions League live updates: Chelsea-Dortmund, Benfica-Brugge news
Get the latest as Chelsea host Borussia Dortmund, while Club Brugge visit Benfica in the Champions League for a place in the quarterfinals.
Champions League talking points: End of the road for Liverpool? Wake-up call for Premier League?
After a rough set of Champions League results for Premier League clubs as a whole and Liverpool in particular, our writers answer the big questions.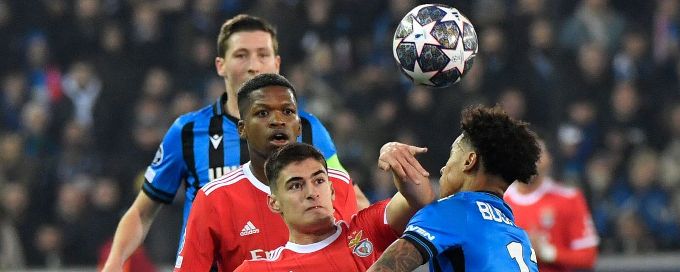 Benfica beat Brugge at the double away in Champions League
Benfica set a foot in the Champions League next round after a 2-0 victory in Belgium over Brugge.
Premier League, Champions League live updates: Arsenal-Man City, Dortmund-Chelsea news
Get the latest from the Premier League's top-of-the-table clash between Arsenal and Man City, while Chelsea visit Dortmund in the Champions League.
The Champions League is back! 7 things you probably already forgot happened this season
After six rounds of games in just nine weeks before the World Cup, the Champions League returns from a 3 1/2-month break. Here's where we left off.
Champions League last-16 Power Rankings: Can anyone stop Man City or Bayern?
The Champions League last 16 is here! So let's break down the remaining teams by who has the most chance of winning it all.
Draw sees Brugge finish second and Leverkusen third in Group B
Club Brugge finished second in their Champions League group after drawing 0-0 at Bayer Leverkusen on Tuesday.
Porto boost hopes Champions League last-16 spot with win at Brugge
FC Porto boosted their hopes of progress in the Champions League with a convincing 4-0 victory away at Group B leaders Club Brugge.
Club Brugge reach knockouts after draw with misfiring Atletico Madrid
Belgian side Club Brugge reached the Champions League knockouts after a 0-0 draw against Atletico Madrid on Wednesday.
Champions League talking points: Barcelona troubles, Brugge make history, our favorite goals
Gab Marcotti, Sam Marsden and Julien Laurens give their takes after another round of thrilling games in the Champions League group stage.
Brugge upset Atletico 2-0 to remain unbeaten in Group B
Club Brugge beat Atletico Madrid 2-0 at home on Tuesday to extend their unbeaten run on Champions League Group B this season.
Champions League overreactions: Liverpool, Chelsea last-16 hopes take a minor hit, Club Brugge impress
We're midway through September and one-third of the way through the CL group stage. Let's talk about the most noteworthy shifts and stories so far.
Brugge shock Porto with 4-0 away triumph
Club Brugge pulled off a shock 4-0 win at FC Porto on Tuesday to win a second successive Champions League Group B game and go top of the standings.
Teenager Sylla earns Club Brugge winning start in Group B
Teenager Abakar Sylla scored the only goal just before halftime as hosts Club Brugge beat Bayer Leverkusen 1-0 in the Champions League on Wednesday.
Champions League group stage draw live blog: The anticipation, buzz and reaction to the 2022-23 edition of Europe's biggest club competition
The Champions League is the pinnacle of club football, and each year's group-stage draw marks the start of all 32 teams' quest for the European Cup.
Ajax appoint former assistant Alfred Schreuder to replace Erik ten Hag
Ajax named Alfred Schreuder as their new coach to replace Erik ten Hag who will join Manchester United, the club announced on Thursday.
Benfica's Darwin Nunez, Ajax's Sebastien Haller in top 10 most valuable players outside Europe's top 5 leagues - CIES study
While Kylian Mbappe's and Erling Haaland's futures will dominate the summer transfer window, there's lots of talent outside Europe's top leagues.
Chicago Fire keeper Chris Brady eyed by Belgian champs Club Brugge - sources
Chicago Fire FC goalkeeper Chris Brady is drawing considerable interest from Belgian side Club Brugge, sources have told ESPN.
Monaco hire Club Brugge coach Philippe Clement to replace Niko Kovac
AS Monaco appointed coach Philippe Clement on a two-and-a-half year deal on Monday after firing Niko Kovac during the midseason break.
Lionel Messi, Kyllian Mbappe net two each in PSG Champions League win
Kylian Mbappe and Lionel Messi scored two apiece as Paris Saint-Germain beat Club Brugge 4-1 at the Parc des Princes on Tuesday.
Five-star Leipzig thrash Brugge after rampant first half
RB Leipzig scored four goals in a rampant first-half performance and added one more after the break to beat Club Brugge 5-0.
Manchester City prepare for derby with easy Champions League win over Club Brugge
Manchester City prepared for this weekend's derby with a comfortable 4-1 victory over Club Brugge in the Champions League on Wednesday.
Pep Guardiola on Man City vs. Man United: Brugge more important
Pep Guardiola said Manchester City's Champions League clash with Club Brugge is "much more important" than Saturday's trip to Old Trafford.
Team Leaders
Top Scorers
| # | Player | Goals | M | A |
| --- | --- | --- | --- | --- |
| 99 | Thiago | 4 | 6 | 0 |
| 7 | Andreas Skov O.. | 4 | 6 | 0 |
| 77 | Philip Zincker.. | 3 | 4 | 0 |
Top Assists
| # | Player | Assists | M | G |
| --- | --- | --- | --- | --- |
| 22 | Simon Mignolet | 0 | 6 | 0 |
| 44 | Brandon Mechel.. | 0 | 6 | 1 |
| 15 | Raphael Onyedi.. | 0 | 6 | 0 |