Chelsea
12th in English Premier League
---
Chelsea appoint Mauricio Pochettino as manager after worst finish in 29 years
Mauricio Pochettino has signed a two-year deal with the option of a further year and will start work on July 1, the club announced on Monday.
The inside story of Mauricio Pochettino's move to Chelsea
Chelsea have finally landed a manager who could take them places. This is how and why ex-Tottenham and PSG boss Mauricio Pochettino opted to take over.
Way-too-early Premier League 2023-24 predictions: Liverpool to rival Man City for title, Arsenal face battle for top four
With the dust barely settled on 2022-23, what will happen next season? Can Liverpool push Man City all the way? Will Arsenal even make top four?
The VAR Review: Yerry Mina 'bite' on Dominic Solanke; penalties to Brentford and Chelsea
In this week's VAR Review: Should Everton's Yerry Mina have been sent off for biting AFC Bournemouth's Dominic Solanke?
Chelsea close woeful season with draw and 12th spot
The Blues fail to capitalise on late chances, settling for a 1-1 draw with Newcastle.
What would success look like for Pochettino at Chelsea?
James Olley expects massive changes in Chelsea next season and lays out what a successful season would look like.
Newcastle draw with Chelsea to end stellar Premier League season
Anthony Gordon's first goal for Champions League-bound Newcastle United earned them a final Premier League point in a 1-1 draw at Chelsea on Sunday to ensure the home side's chaotic season ended with a whimper.
Red Devils put four past Chelsea, book Champions League spot
Manchester United lock in Champions League football next season with a resounding 4-1 victory over Chelsea.
As Chelsea's awful first year under Boehly nears its end, at least youngsters get a chance
The first year of Chelsea under Todd Boehly has been like a magical illusion gone wrong. At least there is plenty of rising talent for next season.
Man United secure UCL spot: How much credit does Ten Hag deserve?
The ESPN FC crew react to Manchester United securing Champions League football next season after thrashing Chelsea 4-1 at Old Trafford.
Manchester United back in Champions League with rout of Chelsea
Manchester United will be back in action in next season's Champions League after they hammered Chelsea 4-1 on Thursday to secure a top-four finish in the Premier League.
Casemiro leads Man United past Chelsea into Champions League
Casemiro has been among Man United's best this season, so it's fitting he kicked off the win over Chelsea that secured Champions League football.
Manchester United coach Ten Hag warns money alone won't buy success
Erik ten Hag has warned prospective new owners of Manchester United that investment in the squad will be meaningless if there is no strategy behind it.
LIVE: Transfer Talk: Jules Kounde open to Barcelona exit amid Chelsea interest
Jules Kounde would be willing to leave Barcelona if there is an agreement with all parties involved, as Chelsea are showing interest. Transfer Talk is LIVE with the latest.
Ten Hag: We want to get the job done
Erik ten Hag speaks to the media ahead of Manchester United's penultimate match of the season vs. Chelsea.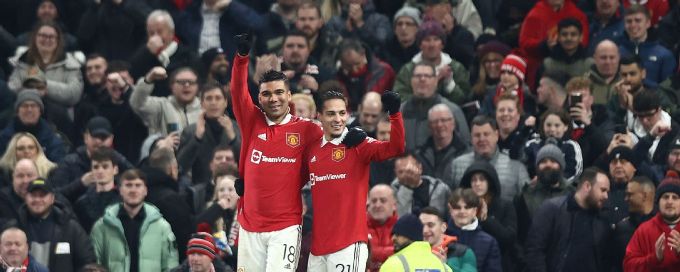 Manchester United, Barcelona won the transfer windows; Chelsea, Tottenham the biggest losers
The 2022-23 season is almost done and the transfer window is fast approaching, which makes this the perfect time to reflect on last year's business.
LIVE Transfer Talk: AC Milan eye USMNT's Folarin Balogun and Chelsea's Ruben Loftus-Cheek
AC Milan are making a play for newest USMNT addition Folarin Balogun, as well as Chelsea's Ruben Loftus-Cheek. Transfer Talk has the latest.
Transfer Talk: Arsenal jump ahead of Chelsea in race to sign Moises Caicedo
Moises Caicedo is leaving Brighton after all, but it's not for Chelsea as rumoured -- it's for Arsenal. Transfer Talk has the latest.
Do financial charges against Man City tarnish Premier League dominance?
Mark Ogden explains why there is a cloud hanging over Manchester City despite the club winning yet another Premier League title.
Man City celebrate their fifth Premier League title in six seasons with win vs. Chelsea
Pep Guardiola gave his reserves a chance to impress on Sunday vs. Chelsea and they didn't disappoint, wrapping up a 1-0 win before accepting the Premier League trophy. Up next: two cup finals between them and a possible treble.
City celebrate Premier League title with 1-0 victory over Chelsea
Manchester City celebrated their Premier League title on Sunday, beating Chelsea 1-0 with an early goal by Julian Alvarez in the team's home finale at Etihad Stadium.
LIVE: Transfer Talk: Liverpool to beat Chelsea in race to sign Brighton's Alexis Mac Allister
Brighton midfielder and World Cup winner Alexis Mac Allister is set to join Liverpool this summer. Transfer Talk is LIVE with the latest.
Chelsea make €80m offer for Juventus striker Dusan Vlahovic - sources
Chelsea have made Dusan Vlahovic their No. 1 target for the summer, making an €80 million offer for the Juventus striker, sources told ESPN.
Is Man City's Premier League dominance a concern?
After Manchester City wins its third Premier League title in a row, Craig Burley considers if anyone is capable of challenging them next season.
Pep: De Bruyne shouts at me all the time and I love it
Manchester City manager Pep Guardiola laughs off row with Kevin De Bruyne during the 4-0 win over Real Madrid in the Champions League semifinals at the Etihad.
Team Leaders
Top Scorers
| # | Player | Goals | M | A |
| --- | --- | --- | --- | --- |
| 29 | Kai Havertz | 7 | 35 | 1 |
| 17 | Raheem Sterlin.. | 6 | 28 | 3 |
| 11 | João Félix | 4 | 16 | 0 |
Top Assists
| # | Player | Assists | M | G |
| --- | --- | --- | --- | --- |
| 17 | Raheem Sterlin.. | 3 | 28 | 6 |
| 22 | Hakim Ziyech | 3 | 18 | 0 |
| 6 | Thiago Silva | 2 | 27 | 0 |