Chelsea
9th in English Premier League
---
Could Aubameyang move to LAFC?
Herc Gomez feels Pierre-Emerick Aubameyang would have a lot to offer should he decide to leave Chelsea to play in MLS.
Pierre-Emerick Aubameyang fighting for his career after latest Chelsea blow
Pierre-Emerick Aubameyang appears to occupy a place in that space between the team Chelsea were and the one they want to be. How will he react?
LIVE Transfer Talk: LAFC make move for Chelsea's Pierre-Emerick Aubameyang
With Pierre-Emerick Aubameyang's Chelsea future looking increasingly bleak, LAFC have emerged as potential suitors. Transfer Talk has the latest.
Panic Index: Chelsea, Liverpool, AC Milan in trouble when it comes to next season's Champions League
Of all teams in this year's Champions League, six powerhouses are in real danger of missing out next time around. Who are they, and how bad is it?
Chelsea confident Thiago Silva will sign new contract - sources
Chelsea are increasingly confident Thiago Silva will sign a new one-year contract through to 2024, sources have told ESPN.
LIVE Transfer Talk: Barcelona, Atletico Madrid, AC Milan eye Chelsea's Aubameyang
Barcelona, Atletico Madrid and AC Milan are all monitoring Pierre-Emerick Aubameyang's situation at Chelsea. Transfer Talk has the latest.
Potter confident Chelsea can still push for top 4 but says new signings need to gel
Chelsea head coach Graham Potter has said he remains "confident" his side can make a push to qualify for Champions League football next season, d
Burley: Chelsea look like a giant jigsaw puzzle
Craig Burley reacts to Chelsea's draw with Fulham in the Premier League.
Pierre-Emerick Aubameyang removed from Chelsea's Champions League squad
Pierre Emerick Aubameyang has been omitted from Chelsea's Champions League squad to free up registration spots for the club's new signings.
Chelsea's £600m spree seems more scattergun than strategic -- a big risk if it can't deliver on promises.
Chelsea's transfers have so far appeared to be scattergun and extravagant, which will prove costlier if Graham Potter can't make it all work out.
Chelsea's attacking woe vs. Fulham overshadows bright debut by record signee Enzo Fernandez
Enzo Fernandez, the Premier League's record signee, enjoyed a promising debut for Chelsea, though familiar issues in front of goal remain.
New-look Chelsea held to home draw by Fulham as Enzo Fernandez makes debut
A new-look Chelsea experienced familiar attacking frustrations in a goalless draw with Fulham in Friday's west London derby at Stamford Bridge.
Jurgen Klopp, Pep Guardiola question Chelsea's transfer spending in January
Jurgen Klopp and Pep Guardiola have expressed their bemusement at how Chelsea were able to bring in a number of big money signings.
Benfica president Rui Costa blasts Enzo Fernandez for behaviour before Chelsea transfer
Benfica president Rui Costa has hit out at Enzo Fernandez for his behaviour before leaving the club to join Chelsea for a British record fee.
Fernandez to Chelsea fans: Let's win everything
New Chelsea signing Enzo Fernandez gives his first interview since joining the club in a record-breaking deal from Benfica.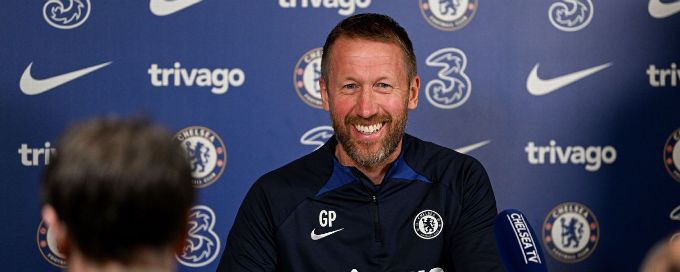 How will Premier League's top-four race play out after hectic January transfer window?
The January transfer window is now closed, so teams are locked for the rest of the season. How will late signings impact the race for the top four?
Chelsea boss Graham Potter anticipates awkward conversations after January spending
Chelsea manager Graham Potter said there will be some awkward conversations as he attempts to piece together the club's costly jigsaw puzzle.
Premier League without VAR: Liverpool 6 points above relegation zone, Man United out of top four
Fans always argue about which Premier League teams get the better of the VAR decisions, and this season we aim to find the definitive answer.
Trying to make sense of Chelsea's transfer spree: big gambles, but big rewards too?
Disruption works in the tech industry, but Chelsea -- led by Todd Boehly and Behdad Eghbali -- are trying it in the transfer market.
Laurens: PSG 'furious' with Chelsea for Ziyech breakdown
Julien Laurens explains why Hakim Ziyech was unable to complete a deadline day move from Chelsea to PSG.
Hakim Ziyech loan move from Chelsea to PSG collapses due to late registration - sources
Hakim Ziyech will not join Paris Saint-Germain on loan from Chelsea due to late paperwork causing the deal not to be registered.
Chelsea, Arsenal win January transfer window; Everton, Moises Caicedo the biggest losers
The January transfer window was surprisingly busy as Chelsea and Arsenal made some big moves. Here's who did well and who did not.
Transfer Deadline Day as it happened: Chelsea get Fernandez in record deal; Arsenal land Jorginho
Chelsea have a deal for Enzo Fernandez, Jorginho moved to Arsenal, and Pedro Porro finally signed for Spurs. This was Deadline Day, as it happened!
Chelsea sign Enzo Fernandez from Benfica for Premier League record fee
Chelsea have signed Enzo Fernandez from Benfica after meeting the midfielder's €121 million release clause, the Portuguese side said on Tuesday.
PSG loan deal for Chelsea's Hakim Ziyech at risk of collapse - sources
PSG's loan deal for Chelsea's Hakim Ziyech is in jeopardy after it was determined they failed to register the move in time, sources told ESPN.
Team Leaders
Top Scorers
| # | Player | Goals | M | A |
| --- | --- | --- | --- | --- |
| 29 | Kai Havertz | 5 | 20 | 1 |
| 17 | Raheem Sterlin.. | 4 | 16 | 2 |
| 19 | Mason Mount | 3 | 20 | 2 |
Top Assists
| # | Player | Assists | M | G |
| --- | --- | --- | --- | --- |
| 19 | Mason Mount | 2 | 20 | 3 |
| 6 | Thiago Silva | 2 | 19 | 0 |
| 32 | Marc Cucurella | 2 | 19 | 0 |