Besiktas
10th in Turkish Super Lig
---
Bailly leaves Man United to join Besiktas on free transfer
Manchester United have allowed defender Eric Bailly to join Turkish side Besiktas on a free transfer.
Dele Alli reveals rehab stay for addiction after childhood sexual abuse
Dele Alli hopes to inspire others after recently spending six weeks at a rehab facility in the United States for addiction, mental health and trauma treatment.
Dele Alli denies AWOL comments from Besiktas manager, plans to return to training
Besiktas midfielder Dele Alli has clarified that he is not missing after his own manager claimed the club were looking for him.
Besiktas game stopped as fans throw toys on pitch to donate to Turkey, Syria earthquake victims
Besiktas fans threw stuffed toys onto the pitch against Antalyaspor to donate to children impacted by the earthquake in Turkey and Syria.
Man United sign striker Wout Weghorst on loan from Burnley
Manchester United have completed the signing of striker Wout Weghorst on loan from Burnley until the end of the season, the club have announced.
Man United agree loan deal to sign Wout Weghorst, player to undergo medical - sources
Wout Weghorst is expected to fly to England within the next 24 hours to complete his loan move to Manchester United, sources have told ESPN.
Man United working on Wout Weghorst deal amid Besiktas payment demand - sources
Manchester United are working on a deal to loan Wout Weghorst, but Besiktas want a payment to terminate his contract early, sources have told ESPN.
Man United interested in loan deal for Netherlands striker Wout Weghorst - sources
Manchester United are interested in signing Wout Weghorst on a short-term deal until the end of the season, sources have told ESPN.
Paris Saint-Germain fined €10m by UEFA for Financial Fair Play overspending
PSG must pay €10 million for breaking UEFA financial rules, with seven other clubs also punished for overspending since 2018.
Everton midfielder Dele Alli joins Besiktas on season-long loan
Everton midfielder Dele Alli has joined Turkish side Besiktas on loan for the rest of the season, both clubs announced on Thursday.
Erling Haaland, Marco Reus lead Europa League-bound Borussia Dortmund over Besiktas
Borussia Dortmund's Marco Reus and Erling Haaland each scored twice in a 5-0 win over Besiktas in their final Champions League Group C game.
Sebastien Haller nets brace as Ajax maintain flawless Champions League record in win over Besiktas
Sebastien Haller added to his impressive Champions League goal tally as Ajax came from behind to beat Besiktas 2-1 on Wednesday.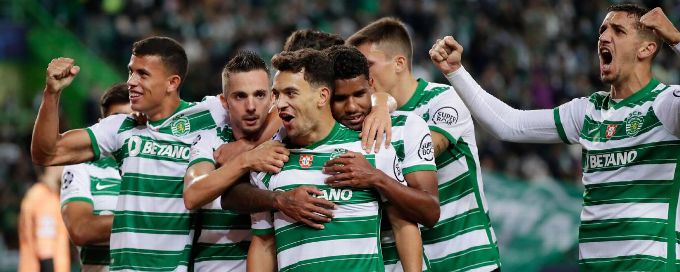 Sporting steamroller Besiktas in Champions League win
A double from Pedro Goncalves helped Sporting to a dominant 4-0 Champions League home win over Besiktas on Wednesday.
Coates heads 2 goals as Sporting Lisbon beats Besiktas 4-1
— Sebastian Coates waited years to score his first Champions League goal but only 12 minutes for the next one, a near-exact copy.
Coates double steers Sporting to 4-1 win at Besiktas
Sporting rekindled their hopes of reaching the Champions League knockout stage as Sebastian Coates helped secure a 4-1 victory at Besiktas.
Berghuis helps Ajax to Champions League win over Besiktas
Steven Berghuis scored one goal and set up another as Ajax were comfortable 2-0 winners over injury-hit Besiktas in their Champions League match.
Jude Bellignham, Erling Haaland score in Dortmund's Champions League win vs. Besiktas
Jude Bellingham produced an inspired performance as he scored one goal and set up the other to help Borussia Dortmund to a 2-1 win at Besiktas.
Besiktas clinch Turkish title on goal difference
Besiktas seized the Turkish Super Lig title for the 16th time on Saturday with a 2-1 win away to Goztepe.
USMNT's Berhalter: Tyler Boyd's Besiktas roster situation 'surprising'
Gregg Berhalter said he is "not too happy" with the roster situation at Besiktas that will sideline U.S. winger Tyler Boyd until possibly January.
Liverpool's Karius terminates loan contract with Besiktas
Liverpool goalkeeper Loris Karius has terminated his loan contract at Besiktas, the player announced on Monday.
Turkey legend Rustu Recber in hospital with coronavirus
Former Turkey keeper Rustu Recber has been taken to hospital after testing positive for the coronavirus and is currently in a "critical period."
Monreal, Elneny leave Arsenal for Spain, Turkey
Arsenal have sold Nacho Monreal to Real Sociedad and loaned Mohamed Elneny to Besiktas.
USMNT's Boyd inks deal with Turkish club Besiktas
United States men's national team midfielder Tyler Boyd has signed a four-year deal with Turkish club Besiktas.
Liverpool's Karius files claim against Bestikas after not being paid
FIFA have told ESPN on Wednesday that they 'have a received a claim from the player Loris Karius against the club Besiktas.'
Liverpool won't recall Karius despite Besiktas coach's comments - sources
Loris Karius was loaned out by Liverpool manager Jurgen Klopp at the start of the season following the £65 million signing of Brazil No. 1 Alisson.
Team Leaders
Top Scorers
| # | Player | Goals | M | A |
| --- | --- | --- | --- | --- |
| 6 | Omar Colley | 2 | 4 | 0 |
| 83 | Gedson Fernand.. | 1 | 4 | 0 |
| 11 | Milot Rashica | 1 | 3 | 0 |
Top Assists
| # | Player | Assists | M | G |
| --- | --- | --- | --- | --- |
| 6 | Omar Colley | 0 | 4 | 2 |
| 34 | Mert Günok | 0 | 4 | 0 |
| 83 | Gedson Fernand.. | 0 | 4 | 1 |