Benfica
1st in Portuguese Primeira Liga
---
Champions League quarterfinal reaction: Predictions, lines, stats, more
The quarterfinal field is set, with Real Madrid facing Chelsea and Man City vs. Bayern Munich. We break down the keys and predict who moves on.
Champions League talking points: Does five-goal Haaland make Man City favourites? Is VAR getting worse?
With this season's Champions League quarterfinalists now set, our writers answer some of the big questions arising from the round-of-16 second legs.
Benfica crush Brugge 5-1 to reach Champions League quarterfinals
Clinical Benfica thrashed shell-shocked Club Brugge 5-1 to knock them out of the Champions League and reach the quarter finals 7-1 on aggregate.
Champions League live updates: Chelsea-Dortmund, Benfica-Brugge news
Get the latest as Chelsea host Borussia Dortmund, while Club Brugge visit Benfica in the Champions League for a place in the quarterfinals.
Champions League talking points: End of the road for Liverpool? Wake-up call for Premier League?
After a rough set of Champions League results for Premier League clubs as a whole and Liverpool in particular, our writers answer the big questions.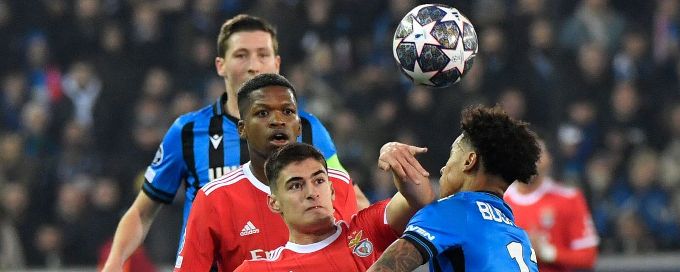 Benfica beat Brugge at the double away in Champions League
Benfica set a foot in the Champions League next round after a 2-0 victory in Belgium over Brugge.
Premier League, Champions League live updates: Arsenal-Man City, Dortmund-Chelsea news
Get the latest from the Premier League's top-of-the-table clash between Arsenal and Man City, while Chelsea visit Dortmund in the Champions League.
The Champions League is back! 7 things you probably already forgot happened this season
After six rounds of games in just nine weeks before the World Cup, the Champions League returns from a 3 1/2-month break. Here's where we left off.
Benfica president Rui Costa blasts Enzo Fernandez for behaviour before Chelsea transfer
Benfica president Rui Costa has hit out at Enzo Fernandez for his behaviour before leaving the club to join Chelsea for a British record fee.
Chelsea sign Enzo Fernandez from Benfica for Premier League record fee
Chelsea have signed Enzo Fernandez from Benfica after meeting the midfielder's €121 million release clause, the Portuguese side said on Tuesday.
Who is Chelsea's new €121m midfielder, Enzo Fernandez?
Chelsea have signed Benfica and Argentina midfielder Enzo Fernandez for €121m, but what do you need to know about the youngster?
Chelsea inching closer to deal for Benfica's Fernandez, Ziyech headed to PSG - sources
Negotiations between Chelsea and Benfica for the transfer of Argentina international Enzo Fernandez intensified on Monday, sources told ESPN.
LIVE Transfer Talk: Chelsea re-open talks with Benfica's Enzo Fernandez
Chelsea are looking to complete a €120m move to sign Enzo Fernandez before the deadline on Tuesday. Transfer Talk has the latest.
Hoffenheim brings John Brooks back to Bundesliga from Benfica
Hoffenheim is bringing U.S. defender John Brooks back to the Bundesliga from Benfica.
LIVE Transfer Talk: Jude Bellingham, Declan Rice top Chelsea's five-man midfield shortlist
England teammates Jude Bellingham and Declan Rice are among five players Chelsea want to build their midfield around. Transfer Talk has the latest.
Benfica coach slams Chelsea for 'disrespectful' pursuit of Enzo Fernandez
Benfica coach Roger Schmidt has branded Chelsea "disrespectful" over their pursuit of signing World Cup winner Enzo Fernandez.
Chelsea, Benfica in deadlock over Enzo Fernandez transfer - sources
Chelsea and Benfica remain locked in talks over what could turn into a British record fee for midfielder Enzo Fernandez, sources have told ESPN.
LIVE Transfer Talk: Chelsea close in on Argentina star Enzo Fernandez
Chelsea are hoping to complete the deal for Benfica forward Enzo Fernandez early in the January transfer window. Transfer Talk has the latest.
LIVE Transfer Talk: Newcastle eye Jorginho as Chelsea make €120m offer for Enzo Fernandez
Jorginho could find a landing spot at Newcastle as Chelsea chase down Enzo Fernandez to replace him. Transfer Talk is LIVE with the latest.
Man United to enquire about Benfica's Goncalo Ramos in January - sources
Manchester United are set to make an enquiry about the availability of Benfica striker Goncalo Ramos, sources have told ESPN.
Portugal's Goncalo Ramos: Everything you need to know about Benfica striker who replaced Cristiano Ronaldo and Darwin Nunez
Portugal's Cristiano Ronaldo was dropped for 21-year-old Goncalo Ramos against Switzerland, who then scored a hat trick. He's a future star.
Soccer's Black Friday 2022 gift guide: Club-branded microwaves, rubber ducks and the last trace of Ronaldo at Man United
With the Black Friday sales are upon us, here is some of the weird and wonderful branded merchandise that major clubs are hawking to their fans.
Champions League last-16 Power Rankings: Can anyone stop Man City or Bayern?
The Champions League last 16 is here! So let's break down the remaining teams by who has the most chance of winning it all.
Benfica beat Maccabi Haifa 6-1 to top Champions League group ahead of PSG
Benfica completed a 6-1 win at Maccabi Haifa on Wednesday to stunningly overhaul PSG at the top of Champions League Group H.
Benfica end Juventus' Champions League hopes in seven-goal thriller
Benfica's Rafa Silva scored two superb goals as they edged Juventus 4-3 in a thriller at Estadio da Luz on Wednesday to seal a last-16 spot.
Team Leaders
Top Scorers
| # | Player | Goals | M | A |
| --- | --- | --- | --- | --- |
| 20 | João Mário | 17 | 24 | 6 |
| 88 | Goncalo Ramos | 16 | 21 | 2 |
| 7 | David Neres | 6 | 22 | 5 |
Top Assists
| # | Player | Assists | M | G |
| --- | --- | --- | --- | --- |
| 3 | Alejandro Grim.. | 8 | 24 | 2 |
| 20 | João Mário | 6 | 24 | 17 |
| 7 | David Neres | 5 | 22 | 6 |