Vinicius Junior: Racist abuse needs to be punished in Spain
Published: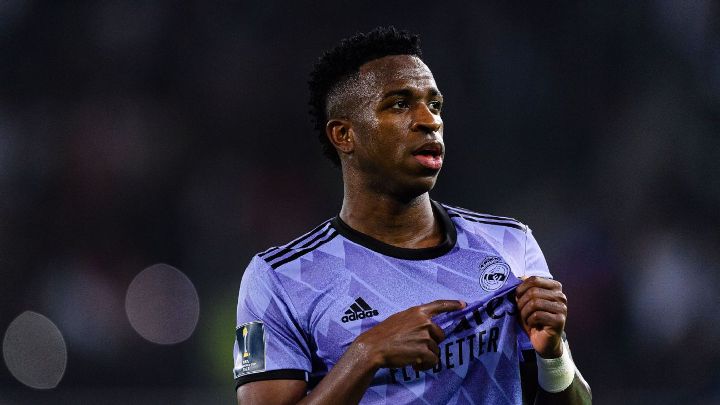 Real Madrid's forward Vinicius Junior has said the only way to fight racism is by punishing those who are reponsible.
Vinicius urged for more action after Brazilian basketball player Yago Dos Santos was subjected to racial abuse during his team's EuroCup defeat at Joventut Badalona on Tuesday.
"Let's start to punish those people or we'll go back to how it was before," Vinicius tweeted in response to comments regarding the latest racist incident.
"But as long as we don't do anything, we'll continue fighting for ourselves."
In the case of Dos Santos, video cameras captured the moment a Joventut female fan shouted "monkey" at him.
Spanish club Joventut said it will cooperate with authorities while Brazil's Basketball Confederation (CBB) condemned the episode and asked for those responsible to be punished.
A CBB statement said: "The crime is recorded on video and identification is quick and easy. The CBB hopes that the Spanish authorities act with the rigor of the law and that crimes like this no longer go unpunished. Yago, we are with you, and we are sure that NOTHING will stop you.
"The Brazilian National Team is your home; Brazilian basketball loves you and you can always count on us!"
Earlier this week, LaLiga filed a complaint in a legal court over racist insults or chanting against Vinicius.
The latest incident was a fan shouting racist chants at the player during Real Madrid's 1-0 league defeat at Real Mallorca on Sunday.
Out of the six complaints that LaLiga have filed, three have been dismissed, two are still being processed, including one last month when a Vinicius shirt was draped over a mannequin that was hung from a bridge outside Real Madrid's training ground.
"We are doing what the law allows us to do," Spain's Sports Council (CSD) president Jose Manuel Franco said.
"A few days ago, the Prosecutor's Office, the Anti-Violence Commission met, and I am convinced, without being too optimistic, that in the medium, even in the short term, we will have tangible results from this joint effort."
Related News
Haaland misses Man City's game vs. Liverpool
Manchester City striker Erling Haaland will miss Saturday's crunch Premier League game against Liverpool with a groin injury.
Barcelona VP confirms transfer talks with Messi
Barcelona VP Rafa Yuste confirmed the club are in contact with Lionel Messi about bringing him back when his contract with PSG expires in June.
Tuchel regrets Dortmund end, focused on Bayern
New Bayern Munich coach Thomas Tuchel said he had regrets over how his time with Borussia Dortmund came to an end.
2030 WC must be in South America - CONMEBOL
CONMEBOL's president told FIFA it would be a mistake not to award the 2030 World Cup to a joint bid from Argentina, Uruguay, Paraguay and Chile.
Spurs dir. Paratici on leave pending ban appeal
Tottenham's managing director of football Fabio Paratici will step back from his role with immediate effect pending an appeal over his global ban.
Chicharito: Mexico boss says door open to return
Javier "Chicharito" Hernandez confirmed he's talked with new Mexico manager Diego Cocca and that the door "is open" to a national team return.
Sources: Shaw to sign new long-term deal at Utd
Luke Shaw extended his deal by a year in December but the club have moved to tie the left-back down to a longer contract, sources have told ESPN.
Klopp on City, Arsenal matches: UCL week for us
Jurgen Klopp said Liverpool face a "Champions League week" as they prepare to take on Premier League title contenders Manchester City and Arsenal.
Spain omit rebel players again as WWC nears
Spain's national team has once again left out the 15 rebel players for their last two warm-up games ahead of the Women's World Cup this summer.