Perth Glory's Daniel Sturridge faces third COVID-19 isolation in three months
Published:
Former Liverpool star Daniel Sturridge is facing a third quarantine stint in the space of three months after being among the Perth Glory players to contract COVID-19.
Wednesday night's A-League Men clash with Macarthur FC was called off after a number of Glory players were struck down by the virus.
Sturridge confirmed on his social media that he was one of them, but said he was up for the fight.
"When I saw the first [one] I thought it was faulty," Sturridge wrote alongside a picture of two COVID tests.
"third quarantine in three months, but this time I've got it. I'll overcome it and build my fitness back up when I'm COVID free."
Sturridge's trip to Australia has proven to be one frustrating confinement after another.
The 32-year-old expressed his exasperation at being forced into 14 days of hotel quarantine upon arrival, despite being double jabbed and testing negative.
He was then forced into another two-week quarantine period in December when a Glory player tested positive while the squad were in Queensland.
Sturridge and a number of his teammates will now have to quarantine again after the virus hit the squad while they were based in Sydney.
The star striker has made just three brief appearances off the bench since signing with Perth in September.
Glory's 42-day stint between games due to their virus dramas was also a reason behind Sturridge's delayed return.
Sturridge showed promise after coming on in the 62nd minute of last week's 2-1 win over Sydney, but he felt tightness in his hamstring late in that game and was no certainty to face Macarthur.
Related News
Fire starts near ground to host Argentina-Mexico
Qatari authorities said a fire broke out Saturday at an under-construction building in a newly built city where Argentina and Mexico will meet.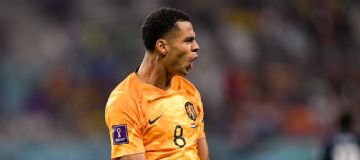 Sources: Man Utd eye Gakpo, Leao deals in Jan
Manchester United have included Cody Gakpo and Rafael Leao on shortlist of potential signings in January transfer window, sources have told ESPN.
Xavi confirms Barca talks with teen star Endrick
Barcelona manager Xavi Hernandez told ESPN he has held talks with highly-rated Brazilian teenager Endrick and his representatives.
Germany face 'final,' out to avoid WC exit - Flick
Germany go into their second World Cup Group E game against Spain on Sunday knowing it is like a final, Germany coach Hansi Flick said.
Spain star Gavi can 'define an era' - Luis Enrique
Luis Enrique has said Spain midfielder Gavi can "define an era" ahead of their World Cup group E clash with Germany on Sunday.
Pulisic: US still has 'a lot of work left' after draw
Christian Pulisic acknowledged the US has "got a lot of work left to do," despite an impressive performance in a 0-0 draw with England.
Neymar out vs. Swiss; Brazil sweat on fitness
Brazil could be without Neymar for the remainder of the World Cup group stage after he suffered an ankle injury.