Lyon thrown out of French Cup handed suspended ban until 2023 after fan violence
Published:
Lyon and Paris FC have been thrown out of the French Cup after their game earlier this month was abandoned over crowd trouble, the French Football Federation (FFF) said on Monday.
The episode on Dec. 17 in Paris had supporters fighting and some of them coming onto the field to throw flares at each other at half-time when the score was level at 1-1.
It was the latest in a series of incidents that has marred French football this season, leading FFF president Noel Le Graet to say it was "disastrous" and "shameful."
The FFF's disciplinary commission also fined Lyon €52,000 ($58,890) while second-tier Paris FC were handed a €10,000 fine.
Lyon fans have been barred from attending away matches in domestic competitions for the rest of the season.
Lyon also received a suspended ban from the French Cup for the 2022-23 season with a warning that they will be thrown out again if their fans are guilty of violence which results in the match being stopped.
Lyon were already docked one point in Ligue 1 after their home game against Marseille was abandoned last month after Marseille's Dimitri Payet was hit by a bottle thrown from the stands.
As a result of the FFF's decision, Nice directly advanced to the next round.
Related News
Fire starts near ground to host Argentina-Mexico
Qatari authorities said a fire broke out Saturday at an under-construction building in a newly built city where Argentina and Mexico will meet.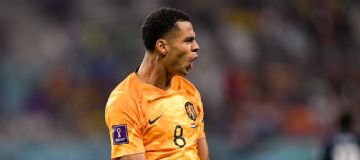 Sources: Man Utd eye Gakpo, Leao deals in Jan
Manchester United have included Cody Gakpo and Rafael Leao on shortlist of potential signings in January transfer window, sources have told ESPN.
Xavi confirms Barca talks with teen star Endrick
Barcelona manager Xavi Hernandez told ESPN he has held talks with highly-rated Brazilian teenager Endrick and his representatives.
Germany face 'final,' out to avoid WC exit - Flick
Germany go into their second World Cup Group E game against Spain on Sunday knowing it is like a final, Germany coach Hansi Flick said.
Spain star Gavi can 'define an era' - Luis Enrique
Luis Enrique has said Spain midfielder Gavi can "define an era" ahead of their World Cup group E clash with Germany on Sunday.
Pulisic: US still has 'a lot of work left' after draw
Christian Pulisic acknowledged the US has "got a lot of work left to do," despite an impressive performance in a 0-0 draw with England.
Neymar out vs. Swiss; Brazil sweat on fitness
Brazil could be without Neymar for the remainder of the World Cup group stage after he suffered an ankle injury.