Liga de Balompie seeks approval for separate Mexico squad under ConIFA
Published:
The new Liga de Balompie Mexico has asked ConIFA to approve it's membership so it can field an separate international team comprised of Mexican players, with the two sides also in talks about sanctioning the league.
"They have turned in an application for their national team to be part of ConIFA and so now we are talking about other things as far as the league goes and sanctioning and things like that," North American regional ConIFA president Aaron Johnsen told ESPN. "It's really exciting what they are doing down there."
ConIFA is an organization that usually house teams that fall outside of the FIFA umbrella and with the Mexican soccer federation (FMF) unlikely to sanction the LBM after it starts up, talks have been ongoing with ConIFA for the last month. ConIFA has over 50 members and sanctions teams such as Quebec, Australian First Nations and Tibet.
The LBM, under president and former El Tri great Carlos Salcido, is due to start in September as an alternative to Mexico's traditional Liga MX, promoting itself as offering opportunities to Mexican players that haven't found a place in the current system.
Johnsen is keen to stress that ConIFA doesn't seek to challenge FIFA and sees an overlap with the way the LBM is looking to fill gaps in Mexican soccer without seeking to directly upset the status quo.
"Basically [the LBM's] ethos is very similar to conIFA in that they want everyone to have a platform to play," stated Johnsen. "It fits very well with us and I hope it'll be a strong partnership. They are a great group of people and seems like they've got a strong organization."
The seven teams currently confirmed for the LBM are Atletico Ensenada, Chapulines de Oaxaca, Industriales de Naucalpan, Jaguares de Jalisco, Club Veracruzano de Futbol Tiburon, Neza FC and Atletico Veracruz.
ConIFA has its base in Lulea, Sweden.  The organization was due to hold its World Football Cup in North Macedonia starting on May 30, but the event was canceled because of the coronavirus pandemic.
Related News
Fire starts near ground to host Argentina-Mexico
Qatari authorities said a fire broke out Saturday at an under-construction building in a newly built city where Argentina and Mexico will meet.
Xavi confirms Barca talks with teen star Endrick
Barcelona manager Xavi Hernandez told ESPN he has held talks with highly-rated Brazilian teenager Endrick and his representatives.
Spain star Gavi can 'define an era' - Luis Enrique
Luis Enrique has said Spain midfielder Gavi can "define an era" ahead of their World Cup group E clash with Germany on Sunday.
Pulisic: US still has 'a lot of work left' after draw
Christian Pulisic acknowledged the US has "got a lot of work left to do," despite an impressive performance in a 0-0 draw with England.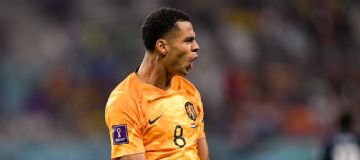 Sources: Man Utd eye Gakpo, Leao deals in Jan
Manchester United have included Cody Gakpo and Rafael Leao on shortlist of potential signings in January transfer window, sources have told ESPN.
Southgate on critics: This is the WC of noise
Gareth Southgate described the Qatar World Cup as "the tournament of external noise" after England were booed off after a 0-0 draw against the US.
Neymar out vs. Swiss; Brazil sweat on fitness
Brazil could be without Neymar for the remainder of the World Cup group stage after he suffered an ankle injury.