Too much sex Club chief explains limp form in Romania
Published:
Gigi Becali, the flamboyant owner of Bucharest football club FCSB, formerly known as Steaua Bucharest, thinks he knows what is to blame for his team's recent poor run in the Romanian league: too much sex.
The 1986 European Cup winners, Romania's most successful club with 26 league titles, have failed to win their last three games, and Becali said after FCSB's 1-1 home draw against lowly Chindia Targoviste: "My players are making love with their girlfriends too often, that's why they aren't playing football so well lately."
The result left them fourth in the table, eight points behind leaders CFR Cluj.
Becali, who made his fortune in real estate after the fall of communism in 1989 and served as a member of the European Parliament, praised CFR Cluj coach Dan Petrescu, a former Chelsea and Southampton right-back, for restoring discipline at the club.
"Look at Dan Petrescu," Becali said. "CFR players have sex only once a week. They meet with women only once a week."
CFR officials could not be reached for comment.
"If [FCSB striker] Florinel Coman would have rested too ... but he is doing other things," Becali added.
Related News
'Genius' Ronaldo won pen vs. Ghana - FIFA panel
Cristiano Ronaldo performed a stroke of "genius" to win a controversial penalty for Portugal against Ghana, FIFA's expert World Cup analysts said.
Fire starts near ground to host Argentina-Mexico
Qatari authorities said a fire broke out Saturday at an under-construction building in a newly built city where Argentina and Mexico will meet.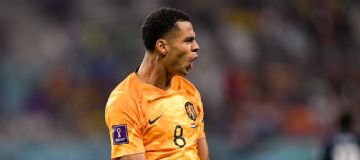 Sources: Man Utd eye Gakpo, Leao deals in Jan
Manchester United have included Cody Gakpo and Rafael Leao on shortlist of potential signings in January transfer window, sources have told ESPN.
Xavi confirms Barca talks with teen star Endrick
Barcelona manager Xavi Hernandez told ESPN he has held talks with highly-rated Brazilian teenager Endrick and his representatives.
Germany face 'final,' out to avoid WC exit - Flick
Germany go into their second World Cup Group E game against Spain on Sunday knowing it is like a final, Germany coach Hansi Flick said.
Spain star Gavi can 'define an era' - Luis Enrique
Luis Enrique has said Spain midfielder Gavi can "define an era" ahead of their World Cup group E clash with Germany on Sunday.
Pulisic: US still has 'a lot of work left' after draw
Christian Pulisic acknowledged the US has "got a lot of work left to do," despite an impressive performance in a 0-0 draw with England.