Tottenham Hotspur
3rd in English Premier League
---
Conte dismisses 'disrespectful' links to Juventus
Antonio Conte brushes off reports linking him with a return to Juventus.
Tottenham's Antonio Conte hits out at Juventus links: 'Disrespectful' to both clubs
Antonio Conte has branded reports linking him with the Juventus job as "disrespectful" and said there is no rush to sign a new deal at Tottenham.
Tottenham's Harry Kane: Richarlison racist incident 'unacceptable'
Tottenham captain Harry Kane has condemned a racist incident involving Richarlison during Brazil's 5-1 victory over Tunisia as "unacceptable."
LIVE Transfer Talk: Bayern Munich make Tottenham's Harry Kane their No. 1 target
Tottenham Hotspur striker Harry Kane is Bayern Munich's No. 1 transfer target. Transfer Talk has the latest.
Richarlison reacts to banana thrown in Paris
Brazil's Richarlison and Thiago Silva react to the incident where a banana was thrown onto the pitch after Richarlison scores the second goal for Brazil.
Why the Premier League's success goes deeper than its star power, competitiveness or upsets
The Premier League is the world's most popular soccer league, but not for reasons you might think. Here's why superstar players aren't everything.
Tottenham's Dier: Family don't attend away games due to fan behaviour
Tottenham's Eric Dier said fan behaviour at games is a serious problem and he feels "too uncomfortable" for his family to attend away matches.
LIVE Transfer Talk: Man City join PSG, Chelsea, Spurs with interest for Inter's Milan Skriniar
Inter's Milan Skriniar is being monitored by Manchester City with PSG, Chelsea and Tottenham eyeing the centre-back. Transfer Talk has the latest.
Bayern Munich, Juventus face crises but Son Heung-Min, Kevin De Bruyne shine before break: Weekend Review
Ahead of the FIFA break, some powerhouses are in a rut. Meanwhile, a couple of Premier League stars came up big. It's ESPN's Weekend Review.
Did Tottenham's Son Heung-Min score the Premier League's fastest hat trick in 13 mins? Not even close
Tottenham's Son Heung-Min came on to score a 13-minute hat trick in a 6-2 victory over Leicester, but it doesn't even crack the top 10 of speed.
Son Heung-Min nets hat trick as Tottenham thrash woeful Leicester City
Son Heung-Min came off the bench and scored a hat trick as Tottenham Hotspur rallied to a dominant 6-2 victory over Leicester City on Saturday.
Marcus Edwards shows what Tottenham and the Premier League missed out on
Marcus Edwards was a thorn in his former club's side after helping Sporting secure their second straight win in the Champions League this season.
Antonio Conte warns Tottenham players after Champions League defeat: 'Nobody is undroppable'
Antonio Conte has warned his Tottenham players that "nobody is undroppable" as he targets a reaction from Champions League loss at Sporting.
Does Conte need to drop Son from the Tottenham XI?
Janusz Michallik speaks about the form of Son Heung-Min after Tottenham's 2-0 loss to Sporting CP.
Sporting overcome Tottenham with two stoppage-time strikes
Tottenham Hotspur conceded two stoppage-time goals to suffer a 2-0 defeat at the hands of Sporting CP in the Champions League on Tuesday.
With Son Heung-min making a slow start to the new season, do South Korea need a Plan B for the FIFA World Cup?
Given Son Heung-min's slow start to the new season, do South Korea need to start coming up with a Plan B for the 2022 FIFA World Cup?
Richarlison rises up in Tottenham's Champions League win over Marseille but Son Heung-Min struggles
In his first Champions League game and Tottenham's first since the 2019-20 term, Richarlison ensured it was a memorable night over Marseille.
Tottenham down 10-man Marseille on late Richarlison double
Richarlison's first goals for Tottenham Hotspur helped them mark their return to the Champions League with a 2-0 victory over 10-man Marseille.
Tottenham manager Antonio Conte slams fixture schedule, calls on club officials
Antonio Conte believes Tottenham Hotspur have been "penalised" for a "crazy" fixture schedule and urged club officials to step up to avoid a repeat.
Champions League preview - African players to watch, and way-too-early predictions
Last season, for the first time since 2018, no African player was part of the winning team, but the continent's stars will be going for the gold.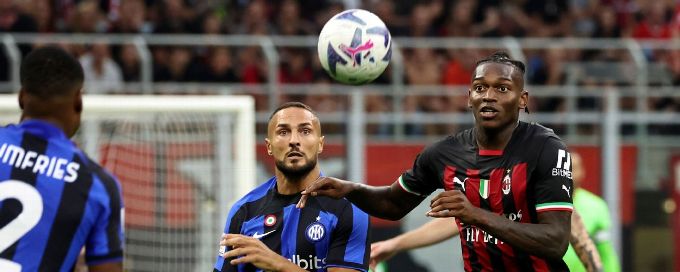 Rafael Leao, Mike Maignan's heroics lead Milan to derby win, Ten Hag's tough calls pay off, Madrid's youngsters shine and more
An electric Milan derby delivered goals, saves and drama as Rafael Leao and Mike Maignan dazzled. PLUS: talking points galore around Europe.
LIVE Transfer Talk: Bayern Munich plot move for Tottenham's Harry Kane to fix striker crunch
Bayern Munich are without a true striker at the moment and they think Tottenham's Harry Kane is the answer. Transfer Talk has the latest.
Michallik unsurprised by Spurs' unbeaten start
Janusz Michallik says Tottenham are looking exactly like an Antonio Conte team after beating Fulham.
Tottenham's Harry Kane becomes Premier League's third-highest goal scorer ever. When could he break Alan Shearer's record?
Tottenham striker Harry Kane is still 72 Premier League goals behind Alan Shearer's record haul of 260, but time is on the England captain's side.
Harry Kane on target as Tottenham beat Fulham to maintain pace
Tottenham Hotspur maintained their impressive start to the Premier League season with a 2-1 victory over Fulham on Saturday.
Team Leaders
Top Scorers
| # | Player | Goals | M | A |
| --- | --- | --- | --- | --- |
| 10 | Harry Kane | 6 | 7 | 1 |
| 7 | Son Heung-Min | 3 | 7 | 1 |
| 15 | Eric Dier | 2 | 7 | 0 |
Top Assists
| # | Player | Assists | M | G |
| --- | --- | --- | --- | --- |
| 21 | Dejan Kulusevs.. | 3 | 7 | 1 |
| 14 | Ivan Perisic | 3 | 7 | 0 |
| 9 | Richarlison | 2 | 6 | 0 |