Packers' Aaron Rodgers once met Liverpool's Steven Gerrard
Published:
Aaron Rodgers has revealed that he very nearly lost his cool when he once had the fortune to bump into one of his favourite Premier League legends in a clothing store in Los Angeles.
The Green Bay Packers quarterback was busy browsing the racks when he noticed that Liverpool idol Steven Gerrard was standing mere feet away, at which point the Super Bowl-winning, four-time NFL MVP almost let his nerves get the better of him.
"I've followed the Premier League for a long time, so I am aware of the fans the league and the UK has. I've been a fan of many, many soccer players that have come over to MLS," Rodgers told ESPN.
"I had a random encounter with Steven Gerrard when he was playing for the Galaxy. It was one of the rare times in life where I was star-struck."
Rodgers has declared himself a Liverpool supporter in the past, possibly as a result of his chance brush with the aforementioned Reds legend. However, the 38-year-old NFL star has since revealed he swapped his Premier League allegiance to six-time champions Manchester City after the club sent him some complimentary "swag" a few years ago.
"I was a fan of this other team that plays in the Premier League and specifically one player who ended up coaching in the Premier League after other stops and played for LA Galaxy," Rodgers said while appearing on the Pat McAfee Show while wearing his City jersey.
"And then Man City started reaching out, sending me a bunch of swag. I said you know what all the players I grew up watching on that other team are gone so I'm going to start pulling for Man City and they haven't let me down."
Rodgers was also afforded the chance to get up close and personal with some of the biggest stars in the City squad when Pep Guardiola's side visited Packers' home turf for a preseason friendly against Bayern Munich over the summer.
In the first ever soccer match held at Lambeau Field, City ran out 1-0 winners against their Bavarian opponents with new signing Erling Haaland scoring the only goal of the game in front of over 78,000 fans.
"I got to go in the locker room and meeting Haaland and [Kevin] De Bruyne, did some jersey swaps," Rodgers recalled.
Related News
Fire starts near ground to host Argentina-Mexico
Qatari authorities said a fire broke out Saturday at an under-construction building in a newly built city where Argentina and Mexico will meet.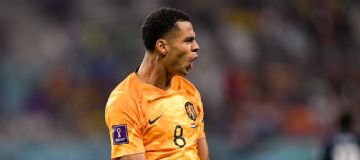 Sources: Man Utd eye Gakpo, Leao deals in Jan
Manchester United have included Cody Gakpo and Rafael Leao on shortlist of potential signings in January transfer window, sources have told ESPN.
Xavi confirms Barca talks with teen star Endrick
Barcelona manager Xavi Hernandez told ESPN he has held talks with highly-rated Brazilian teenager Endrick and his representatives.
Germany face 'final,' out to avoid WC exit - Flick
Germany go into their second World Cup Group E game against Spain on Sunday knowing it is like a final, Germany coach Hansi Flick said.
Spain star Gavi can 'define an era' - Luis Enrique
Luis Enrique has said Spain midfielder Gavi can "define an era" ahead of their World Cup group E clash with Germany on Sunday.
Pulisic: US still has 'a lot of work left' after draw
Christian Pulisic acknowledged the US has "got a lot of work left to do," despite an impressive performance in a 0-0 draw with England.
Southgate on critics: This is the WC of noise
Gareth Southgate described the Qatar World Cup as "the tournament of external noise" after England were booed off after a 0-0 draw against the US.
Neymar out vs. Swiss; Brazil sweat on fitness
Brazil could be without Neymar for the remainder of the World Cup group stage after he suffered an ankle injury.