Kylian Mbappe beats Lionel Messi, Cristiano Ronaldo to top Forbes rich list
Published:
Paris Saint-Germain forward Kylian Mbappe has emerged as the world's highest-paid football player, according to Forbes magazine, the first time a player other than Lionel Messi or Cristiano Ronaldo has topped the list in eight years.
Mbappe, 23, is estimated to earn $128 million for the 2022-23 season before agents' fees, a record for Forbes' annual rankings, with PSG teammate Messi second at $120m and Manchester United's Ronaldo ($100m) occupying the third spot.
PSG's Neymar ($87m) and Liverpool forward Mohamed Salah ($53m) rounded off the top five.
Erling Haaland, who has made a blistering start to his Manchester City career after joining the club from Borussia Dortmund this summer, makes his debut in the top 10 with earnings of $39m.
The rise of Mbappe and Haaland, the only players under the age of 30 on the list, signals a shift in the global game, the Forbes report said, as Messi and Ronaldo edge closer to the end of their glorious careers.
In total, the 10 highest-paid players are expected to collect record earnings worth $652m this season, up 11% from last year's $585m.
Forbes' list of highest-paid footballers 2022
1. Kylian Mbappe
2. Lionel Messi
3. Cristiano Ronaldo
4. Neymar
5. Mohamed Salah
6. Erling Haaland
7. Robert Lewandowski
8. Eden Hazard
9. Andres Iniesta
10. Kevin De Bruyne
Related News
Genius' Ronaldo won pen vs. Ghana - FIFA panel
Cristiano Ronaldo performed a stroke of "genius" to win a controversial penalty for Portugal against Ghana, FIFA's expert World Cup analysts said.
Fire starts near ground to host Argentina-Mexico
Qatari authorities said a fire broke out Saturday at an under-construction building in a newly built city where Argentina and Mexico will meet.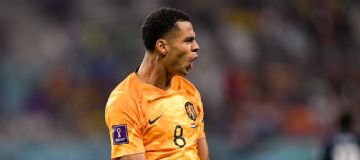 Sources: Man Utd eye Gakpo, Leao deals in Jan
Manchester United have included Cody Gakpo and Rafael Leao on shortlist of potential signings in January transfer window, sources have told ESPN.
Xavi confirms Barca talks with teen star Endrick
Barcelona manager Xavi Hernandez told ESPN he has held talks with highly-rated Brazilian teenager Endrick and his representatives.
Germany face 'final,' out to avoid WC exit - Flick
Germany go into their second World Cup Group E game against Spain on Sunday knowing it is like a final, Germany coach Hansi Flick said.
Spain star Gavi can 'define an era' - Luis Enrique
Luis Enrique has said Spain midfielder Gavi can "define an era" ahead of their World Cup group E clash with Germany on Sunday.
Pulisic: US still has 'a lot of work left' after draw
Christian Pulisic acknowledged the US has "got a lot of work left to do," despite an impressive performance in a 0-0 draw with England.