Tottenham's Harry Kane: Richarlison racist incident 'unacceptable'
Published:
Tottenham Hotspur captain Harry Kane has condemned a racist incident involving teammate Richarlison during Brazil's 5-1 friendly victory over Tunisia in Paris on Tuesday as "unacceptable."
A banana was thrown from the crowd at Brazil players celebrating a Richarlison goal, leading FIFA to announce the following day they will investigate the incident.
Richarlison said on social media postmatch that unless a firm punishment is handed down by footballing authorities such as FIFA, that things will continue in this way and Kane echoed his clubmate's view in an interview with ESPN Brasil.
"It was very disappointing to see," Kane said. "I haven't seen [Richarlison] and had a chance to talk about the racism that he suffered against Tunisia.I think FIFA have said they are going to investigate and find out what happened, but normally, that kind of thing is unacceptable.
"I think we're doing all and much as we can do as players to kick out [racism] as much as possible. I hope FIFA can be strong and find out who done it, making sure the right consequences are made."
Speaking at a news conference ahead of Tottenham's Premier League game against Arsenal, Antonio Conte said: "I think that we have to take the good path in this situation. Richy [Richarlison] played with the national team, scored goals and then I think what happened is incredible.
"In 2022, to be witness of this type of situation is embarrassing for everybody. For sure, I hope these people are banned from football for the rest of their lives. But then, it is a situation very, very disappointing to make a comment about this. I want to take the best part of the game from Richy and he scored three goals and he enjoyed to play with Brazil."
Kane added that he is happy to play alongside Richarlison at Spurs, following his summer transfer from Everton.
Tottenham, who face Arsenal on Saturday, are one point off top spot in the Premier League and Richarlison has also impressed in the Champions League, scoring twice in the victory against Marseille.
"[Richarlison] is a great guy," Kane said. "I'm really well with him. He works really hard and is really professional. Obviously, he have been great in his first season with us. So, I'm really happy to have him in our team."
Related News
'Genius' Ronaldo won pen vs. Ghana - FIFA panel
Cristiano Ronaldo performed a stroke of "genius" to win a controversial penalty for Portugal against Ghana, FIFA's expert World Cup analysts said.
Fire starts near ground to host Argentina-Mexico
Qatari authorities said a fire broke out Saturday at an under-construction building in a newly built city where Argentina and Mexico will meet.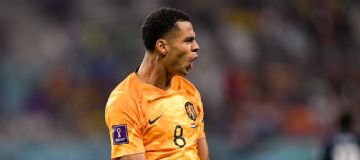 Sources: Man Utd eye Gakpo, Leao deals in Jan
Manchester United have included Cody Gakpo and Rafael Leao on shortlist of potential signings in January transfer window, sources have told ESPN.
Xavi confirms Barca talks with teen star Endrick
Barcelona manager Xavi Hernandez told ESPN he has held talks with highly-rated Brazilian teenager Endrick and his representatives.
Germany face 'final,' out to avoid WC exit - Flick
Germany go into their second World Cup Group E game against Spain on Sunday knowing it is like a final, Germany coach Hansi Flick said.
Spain star Gavi can 'define an era' - Luis Enrique
Luis Enrique has said Spain midfielder Gavi can "define an era" ahead of their World Cup group E clash with Germany on Sunday.
Pulisic: US still has 'a lot of work left' after draw
Christian Pulisic acknowledged the US has "got a lot of work left to do," despite an impressive performance in a 0-0 draw with England.