Former Premier League player summoned to serve in Russian army
Published:
Former Everton player Diniyar Bilyaletdinov has been summoned to serve in the Russian army.
Bilyaletdinov, 37, received a summons after Russia president Vladimir Putin announced a partial mobilisation in which he aims to call up 300,000 troops following the invasion of Ukraine.
Bilyaletdinov is over the age limit of 35 but has previously served military duty for Russia.
His father, Rinat Bilyaletdinov, believes the former Everton midfielder was wrongly called up to serve the country.
"Diniyar really received a summons," Bilyaletdinov Sr told ria.ru. "It's hard to talk about emotions, because he didn't serve, although he did military service, but it was specific, with a sports bias. That was 19 years ago. That is, yes, he took the oath, but served in the sports line.
"If there was a general mobilisation, then there is no need to ask questions. In the meantime, the president has established a partial one, everything should be in accordance with the law."
Bilyaletdinov made over 70 appearances for Everton and played a key role in Russia's Euro 2008 semifinal campaign.
Related News
Fire starts near ground to host Argentina-Mexico
Qatari authorities said a fire broke out Saturday at an under-construction building in a newly built city where Argentina and Mexico will meet.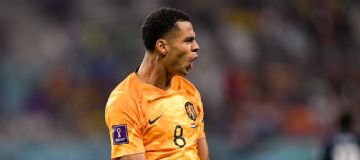 Sources: Man Utd eye Gakpo, Leao deals in Jan
Manchester United have included Cody Gakpo and Rafael Leao on shortlist of potential signings in January transfer window, sources have told ESPN.
Xavi confirms Barca talks with teen star Endrick
Barcelona manager Xavi Hernandez told ESPN he has held talks with highly-rated Brazilian teenager Endrick and his representatives.
Germany face 'final,' out to avoid WC exit - Flick
Germany go into their second World Cup Group E game against Spain on Sunday knowing it is like a final, Germany coach Hansi Flick said.
Spain star Gavi can 'define an era' - Luis Enrique
Luis Enrique has said Spain midfielder Gavi can "define an era" ahead of their World Cup group E clash with Germany on Sunday.
Pulisic: US still has 'a lot of work left' after draw
Christian Pulisic acknowledged the US has "got a lot of work left to do," despite an impressive performance in a 0-0 draw with England.
Neymar out vs. Swiss; Brazil sweat on fitness
Brazil could be without Neymar for the remainder of the World Cup group stage after he suffered an ankle injury.