Liverpool, Man Utd, Real Madrid? Which club suits Bellingham?
Published:
Borussia Dortmund midfielder Jude Bellingham is one of the names on everyone's lips when considering who the best young player in world football is. (He came in fourth on ESPN's 39 U21 list from April.)
Still only 19, Bellingham has made his mark in the German Bundesliga over the past two years since he made a €30 million transfer from Birmingham City in 2020. Now, Dortmund value his services at over €120m, but without a release clause in his contract (unlike Erling Haaland, who moved to Manchester City for €60m from Dortmund this summer), the sky is the limit for Bellingham.
Some of the top clubs in Europe have been scouting the England international, so which one needs him most? And which suits his style of play?

Liverpool are crying out for a midfielder of Bellingham's technical and physical attributes. As manager Jurgen Klopp prepares the club for their next phase of development, the whole midfield could be set for a revamp over the next few transfer windows. Because of injuries or adverse form, Klopp has had to tinker in midfield without seemingly finding the right combinations.
Not only have injuries prevented Naby Keita and Alex Oxlade-Chamberlain from getting a consistent run in the team, but the next generation of 21-year-old Curtis Jones and 19-year-old Harvey Elliott are yet to convince that their long-term future is in the centre of midfield. Then there's the issue of how long veterans James Milner (36) and Jordan Henderson (32) can continue to cope with the intensity and dynamism required to get through 40 to 50 games a season. The only sure thing really is that Fabinho (28) will provide the anchor.
With all the uncertainty surrounding Liverpool's current midfield, Bellingham's athleticism (he hardly ever misses a game) and versatility would be perfect for Klopp, and he could potentially assume the playmaking duties of another injury-prone midfielder: Thiago Alcantara. But one question remains: How great an appetite would Bellingham have for joining a side that is a work in progress? He would be a central part of any team he joins, but at Anfield he might end up being shuffled around instead of slotting into a more settled role.
With the 19-year-old already building a good understanding with Phil Foden in the England side, and seeing how easily his former Dortmund teammate Erling Haaland has settled in at the Etihad, he won't be short of voices talking up a move to the Etihad should City decide to pursue their interest.
In a team generally lacking dynamism and fluid runners in midfield, Bellingham would offer manager Erik ten Hag an array of options at Old Trafford. With United having missed out on signing Barcelona's Frenkie de Jong in the summer, Bellingham would offer some of the same attributes and possibly more.
While De Jong is arguably the more strategical midfielder of the pair, Bellingham also likes to pick up the ball from deep and is improving his passing range. However, it's the latter's ability to connect defence and attack with his pressure-resisting dribbles and ball-carries that could see him become the missing link at Old Trafford. He would also add a penetrative threat that the Manchester United midfield currently sorely misses.

Despite already having a plethora of options in central midfield, the LaLiga and European champions are still reported to have an interest in Bellingham. As proven by their spending vast sums to attract world-class talent such as Eduardo Camavinga (€31m) and Aurelien Tchouameni (€80m), the Spanish giants are an ever-present whenever there's an opportunity to secure the top young players around. The temptation of adding another one in Bellingham might still be within their technical requirements and financial means, assuming they don't make another play to land PSG striker Kylian Mbappe.
With Luka Modric, Toni Kroos, Federico Valverde, Camavinga and Tchouameni all battling for places, it was widely discussed how Real Madrid could fit all their stars into a well-functioning midfield before the €70m transfer of Casemiro to Manchester United freed up some space.
So it's not hard to envisage Bellingham finding a natural place in the Bernabeu midfield in a year's time. The contracts of Modric (37) and Kroos (32) expire then, but the Englishman could theoretically replace them both, making him a major attraction. Two such high-profile departures would leave Valverde (24) as Carlo Ancelotti's most experienced regular in central midfield, but the sheer quality and compatibility of the prospective quartet would still make Madrid favourites to repeat their domestic and European glory.
Of course, there is always the option to stay at Dortmund. Bellingham knows the team and fits the style well, having put in 13 goals and 18 assists from his 100 games to date.
Bellingham is still just 19, so he will have plenty of time to consider where his long-term future lies.
Related News
Fire starts near ground to host Argentina-Mexico
Qatari authorities said a fire broke out Saturday at an under-construction building in a newly built city where Argentina and Mexico will meet.
Xavi confirms Barca talks with teen star Endrick
Barcelona manager Xavi Hernandez told ESPN he has held talks with highly-rated Brazilian teenager Endrick and his representatives.
Spain star Gavi can 'define an era' - Luis Enrique
Luis Enrique has said Spain midfielder Gavi can "define an era" ahead of their World Cup group E clash with Germany on Sunday.
Pulisic: US still has 'a lot of work left' after draw
Christian Pulisic acknowledged the US has "got a lot of work left to do," despite an impressive performance in a 0-0 draw with England.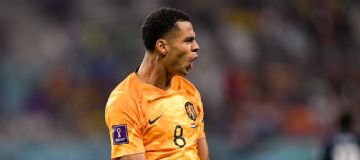 Sources: Man Utd eye Gakpo, Leao deals in Jan
Manchester United have included Cody Gakpo and Rafael Leao on shortlist of potential signings in January transfer window, sources have told ESPN.
Southgate on critics: This is the WC of noise
Gareth Southgate described the Qatar World Cup as "the tournament of external noise" after England were booed off after a 0-0 draw against the US.
Neymar out vs. Swiss; Brazil sweat on fitness
Brazil could be without Neymar for the remainder of the World Cup group stage after he suffered an ankle injury.