Pep Guardiola's contract ends soon at Man City. Will he stay?
Published:
Guardiola, 51, is out of contract in the summer and, without fresh terms being agreed, he could leave the Etihad Stadium at the end of the season. City have made no secret of their desire to keep hold of Guardiola, winner of four Premier League titles and five other major trophies since he arrived in 2016, but asked in August about whether this could be his last year at the club, the former Barcelona and Bayern Munich boss was typically vague.
"I wouldn't change my life here one second," he said. "It's seven seasons already. We spoke with the club. Middle of the season, end of the season, we will talk again about how we feel and decide what's best for the club."
"I said many times that, if they want it, I'd like to stay longer, but at the same time I have to be sure."
Ideally, City would like to be in a position to announce an extension to Guardiola's contract during the break for the World Cup.
Premier League fixtures have been suspended between Nov. 13 and Dec. 26 to accommodate the tournament in Qatar, leaving ample time to conclude negotiations and sign on the dotted line. Confirmation before the restart on Boxing Day would put the issue to bed well before Guardiola enters the last six months of his contract and leave everyone at the Etihad free to focus on the title race and the business end of the Champions League.
"Pep has never stayed as long as he's stayed here with any club, be it Barcelona or Bayern Munich," Al Mubarak said during his usual end-of-season address to supporters. "The question is perfectly valid. It was perfectly valid last year and three years ago, and of course this year. It is a partnership that has done wonders over the years."
Al Mubarak has been here before. Guardiola entered the final year of his last contract at the beginning of the 2020-21 season. There was speculation at the time he was keen for a rest, having already stayed in Manchester longer than he'd managed in Barcelona or Munich.
In the end he stayed, with the announcement of a new two-year deal made in November 2020. Guardiola cited his relationship with the club as one of the key reasons behind his decision to stay, and it will surely be an important factor again this time around.
"Having that kind of support is the best thing any manager can have," he said two years ago. "I have everything I could possibly want to do my job well and I am humbled by the confidence the owner, chairman, Ferran [Soriano] and Txiki [Begiristain], have shown in me to continue for two more years after this season."
Thanks in part to his friendship with Soriano and Begiristain, forged during their time together at Barcelona, Guardiola knows he may never have it as good as he does at City. But he's also acutely aware that he's only as good as his players and that his success as manager requires the squad to continually buy into what he's trying to do.
"It's not the second or third season, it's many years already and I have to see how the players behave," Guardiola said in August. "I don't want to be a problem. Sometimes when you extend things and you force it, it's not good so you have to go through it and relax."
"This kind of situation happens when it's going to happen in a natural way. If you force it, it's not going well. We will see what happens during the season and how we feel and the best decision for the club is going to be taken."
With no desire to work into his 60s and 70s like Sir Alex Ferguson or Arsene Wenger, Guardiola's time on the touchline will come to an end eventually. City, though, are hopeful they've ensured that, for now, there's no place he'd rather be.
Related News
Fire starts near ground to host Argentina-Mexico
Qatari authorities said a fire broke out Saturday at an under-construction building in a newly built city where Argentina and Mexico will meet.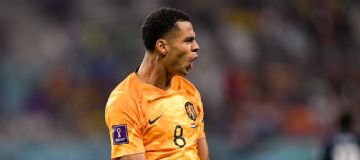 Sources: Man Utd eye Gakpo, Leao deals in Jan
Manchester United have included Cody Gakpo and Rafael Leao on shortlist of potential signings in January transfer window, sources have told ESPN.
Xavi confirms Barca talks with teen star Endrick
Barcelona manager Xavi Hernandez told ESPN he has held talks with highly-rated Brazilian teenager Endrick and his representatives.
Germany face 'final,' out to avoid WC exit - Flick
Germany go into their second World Cup Group E game against Spain on Sunday knowing it is like a final, Germany coach Hansi Flick said.
Spain star Gavi can 'define an era' - Luis Enrique
Luis Enrique has said Spain midfielder Gavi can "define an era" ahead of their World Cup group E clash with Germany on Sunday.
Pulisic: US still has 'a lot of work left' after draw
Christian Pulisic acknowledged the US has "got a lot of work left to do," despite an impressive performance in a 0-0 draw with England.
Neymar out vs. Swiss; Brazil sweat on fitness
Brazil could be without Neymar for the remainder of the World Cup group stage after he suffered an ankle injury.