Tottenham eye Juventus' Dejan Kulusevski after Liverpool hijack Luis Diaz deal - sources
Published:
Tottenham Hotspur have turned their attentions to Juventus winger Dejan Kulusevski after missing out on Wolverhampton Wanderers' Adama Traore and Porto's Luis Diaz, sources have told ESPN.
The 21-year-old is understood to be available on loan, and although AC Milan have expressed an interest, Juventus would prefer to send him to an overseas club.
Sources have told ESPN that Spurs have made contact over a possible deal following the collapse of moves for Traore and Diaz.
It is unclear at this stage whether any deal would contain an option or obligation to buy, but Kulusevski is under contract until 2025, putting Juventus in a strong position to negotiate.
Spurs boss Antonio Conte is adamant his squad needs a significant overhaul this month, but the club have so far been left frustrated after Barcelona agreed loan deal with an option to buy at £35 million with Wolves for Traore and Liverpool hijacked their talks with Porto over Diaz.
ESPN reported on Thursday that Spurs were ready to up their offer for Diaz after seeing their opening bid rejected, but Liverpool have since agreed a fee of €45m plus €15m in add-ons with Porto.
Sources have said Spurs are willing to make a comparable offer, but 25-year-old would prefer to join Jurgen Klopp's side.
That has left the club's managing director of football, Fabio Paratici, and chairman Daniel Levy assessing other options, which include Kulusevski.
Related News
Richarlison racist incident 'unacceptable' - Kane
Tottenham captain Harry Kane has condemned a racist incident involving Richarlison during Brazil's 5-1 victory over Tunisia as "unacceptable."
Barca VP: Messi return financially possible in '23
Barcelona vice president Eduard Romeu has said Lionel Messi's return to the club as a player would be financially possible next summer.
Denmark WC kit protests Qatar on human rights
Denmark will wear kits at the World Cup that protest the human rights record of Qatar, with a black option, which was unveiled on Wednesday.
Ex-Prem player summoned to serve Russia army
Former Everton player Diniyar Bilyaletdinov has been summoned to serve in the Russian army.
'Tata' hits back at critics in 'peculiar' Mexico setup
Mexico manager Gerardo "Tata" Martino hit back at criticism after his team failed to hold onto a 2-0 lead in a 3-2 friendly loss to Colombia.
Women's World Cup ticket sales to begin Oct. 6
Ticket packages for the 2023 Women's World Cup co-hosted by Australia and New Zealand go on sale in October.
Arsenal's 'very weird' goalpost incident in CL
Arsenal Women's win over Ajax was overshadowed by bizarre scenes ahead of kick-off when the goalposts were found to be too small.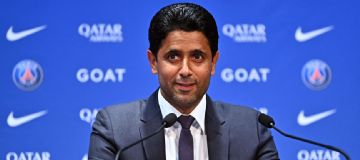 PSG president hits out at Barcelona asset sales
PSG president Nasser Al-Khelaifi has said Barcelona's asset sales in the summer were "not fair" and suggested UEFA would investigate their legality.