European Super League - Madrid court rejects UEFA appeal over judge
Published:
A court in Madrid has rejected a bid from UEFA to have the judge who granted an injunction protecting the Super League removed from the case.
Judge Manuel Ruiz de Lara sided with the Super League and its remaining clubs Real Madrid, Barcelona and Juventus when they brought a lawsuit last year asking for UEFA's disciplinary proceedings against them to be halted.
UEFA subsequently sought to have him recused, alleging irregularities in how he had handled the case.
That request was denied by Madrid's Audiencia Provincial Court on Wednesday, which found that Ruiz de Lara had acted correctly and ordered UEFA to pay costs and a fine.
The ECJ will rule in the next few months on the question of whether UEFA's control of European football constitutes a monopoly, in breach of competition law.
The project appeared to fall apart when nine of them, including six from the Premier League, said they were withdrawing just days later following fierce opposition from fans, politicians and football's governing bodies.
However, Perez has vowed to push ahead with the plans regardless, claiming UEFA's Champions League reforms are insufficient to safeguard football's future.
In November, he told the club's annual general meeting that "UEFA have to be reminded who Real Madrid are."
"The courts have protected the Super League, obliging UEFA to annul their disciplinary processes," he said. "Spanish justice took the case to the European courts, which will issue a binding ruling on UEFA's monopoly."
Related News
Richarlison racist incident 'unacceptable' - Kane
Tottenham captain Harry Kane has condemned a racist incident involving Richarlison during Brazil's 5-1 victory over Tunisia as "unacceptable."
Barca VP: Messi return financially possible in '23
Barcelona vice president Eduard Romeu has said Lionel Messi's return to the club as a player would be financially possible next summer.
Denmark WC kit protests Qatar on human rights
Denmark will wear kits at the World Cup that protest the human rights record of Qatar, with a black option, which was unveiled on Wednesday.
Ex-Prem player summoned to serve Russia army
Former Everton player Diniyar Bilyaletdinov has been summoned to serve in the Russian army.
'Tata' hits back at critics in 'peculiar' Mexico setup
Mexico manager Gerardo "Tata" Martino hit back at criticism after his team failed to hold onto a 2-0 lead in a 3-2 friendly loss to Colombia.
Women's World Cup ticket sales to begin Oct. 6
Ticket packages for the 2023 Women's World Cup co-hosted by Australia and New Zealand go on sale in October.
Arsenal's 'very weird' goalpost incident in CL
Arsenal Women's win over Ajax was overshadowed by bizarre scenes ahead of kick-off when the goalposts were found to be too small.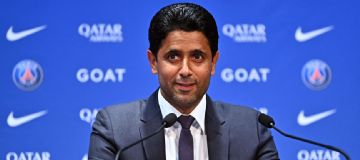 PSG president hits out at Barcelona asset sales
PSG president Nasser Al-Khelaifi has said Barcelona's asset sales in the summer were "not fair" and suggested UEFA would investigate their legality.