Melbourne Victory's revival not complete until they beat Sydney FC
Published: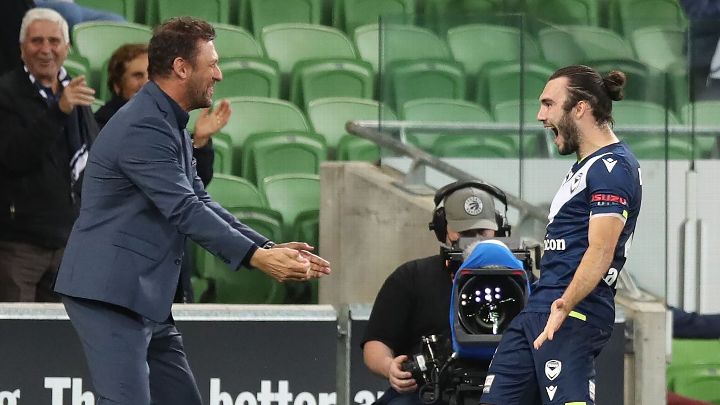 Since then, the two have met eight times, for a total of eight Harboursider wins.
In 2020-21, as years of hubris came home to roost and the club capitulated to a first-ever wooden spoon, Victory failed to score a single goal in three attempts. At times, their attempts to keep up with their rivals looked so hapless it almost engendered a sense of pity and it was telling that towards the end of 2020-21, a young squad simply being able to prevent an embarrassment was considered something of a face-saving "win."
But especially in an ALM context, where a wooden spoon doesn't consign one to rebuilding in the second-tier and seeking promotion back to the top-flight, turnarounds can arrive mightily fast. And in 2021-22, "pitiful" is far from the minds of the Victory fans increasingly making their way back to AAMI Park. Instead, the phrase one would use, potentially with an expletive or two in front if you're a fan of an opposing team, is rising.
New coach Tony Popovic at the helm, Victory heads into Tuesday top of the ALM table and one win away from their first FFA Cup final since 2015. After just seven games, they are a single victory away from equalling their total from the previous season and only the Newcastle Jets possess a greater goals and assists per 90 minutes ratio than their 3.14. Just over two months into the season, oddsmakers have placed them alongside Melbourne City as favourites to take out the title.
However, though their nascent campaign seems to have the momentum of a runaway freight train, it's Victory's lone defeat this season that might best encapsulate the turnaround in perceptions that the fallen giants have undergone in 2021-22.
Riding high off the back of two straight wins to open their campaign, Popovic's side welcomed his former side Perth Glory to AAMI Park in round three, fully expecting to continue their momentum against a West Australian outfit at the beginning of a long East Coast road trip (if only they knew). They promptly lost 3-0.
Elsewhere, whereas in previous years Victory has adopted somewhat of a siege mentality to its dealings with the outside world, there has been a decided shift in the club's external communications to better involve its fans in the running of the club and foster a collective spirit. The signing of Ivan Kelava, for instance, was announced via an interview between the Croatian goalkeeper and fan podcast For Vucks Sake, and Didulica himself has been a guest on the show that carries significant capital in the Victory fanbase. Beyond embracing the league-wide shift to memes and absurdity across its social media channels and fostering a connection to fans through the nameless and disembodied "admin" character, the club has also moved to source feedback on matters such as the music that is played at the ground after a win.
On some level, those steps are a level of window dressing that would count for very little if the house said windows were attached to was still on fire. But in the context of the past two years, in which fans increasingly felt ignored and taken for granted by a club brass more interested in maintaining its fastidiously maintained corporate prawn cocktail brigade, it's an important recognition of past mistakes and grievances.
Thus, with all these facets taken collectively, it's easy to see how Victory's fanbase, and the rest of the league, have been given to believe that the nation's biggest club is awaking from its stupor and is set to challenge for silverware once again. And while such touchpoints are not explicitly necessary on this road to redemption, Tuesday evening represents a significant opportunity for a psychological marker that the lean times of the past two years were being exorcised.
In recent years, Sydney FC's dominance in the fixture provided a stinging contrast of the mire that Victory had fallen into in recent years, an extra level of humiliation to a fanbase already experiencing an ignominious period. Thus, in much the same way that the 2-2 draw with Melbourne City in the Christmas Derby was physiologically important after the 6-0 and 7-0 thrashings of last season, points against a Sky Blues side increasingly staring down a crossroads of their own would be another spark of hope for Victory fans that it was walking the long road back to success.
Related News
Barca VP: Messi return financially possible in '23
Barcelona vice president Eduard Romeu has said Lionel Messi's return to the club as a player would be financially possible next summer.
Denmark WC kit protests Qatar on human rights
Denmark will wear kits at the World Cup that protest the human rights record of Qatar, with a black option, which was unveiled on Wednesday.
'Tata' hits back at critics in 'peculiar' Mexico setup
Mexico manager Gerardo "Tata" Martino hit back at criticism after his team failed to hold onto a 2-0 lead in a 3-2 friendly loss to Colombia.
Injuries up 20% amid packed schedule - study
Injuries across Europe's five major leagues rose by 20% last season and cost clubs in the region of half a billion pounds, a new study has found.
Berhalter critical of USMNT after subpar tune-ups
USMNT manager Gregg Berhalter said there "weren't many players who performed up to their level" in the just concluded international window.
Arsenal, PSG, Madrid reach UWCL group stage
Vivianne Miedema's goal gave Arsenal a 3-2 aggregate win over Ajax to progress to the group stage of the Women's Champions League.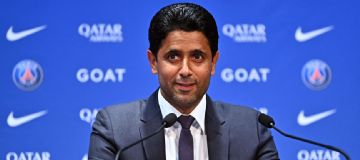 PSG president hits out at Barcelona asset sales
PSG president Nasser Al-Khelaifi has said Barcelona's asset sales in the summer were "not fair" and suggested UEFA would investigate their legality.
Hermoso: Spain coach dispute 'worst in history'
Jenni Hermoso said the hostile situation with head coach Jorge Vilda is "one of the worst times in the history of Spanish women's football."