Do A-Leagues know what they are doing with players?
Published: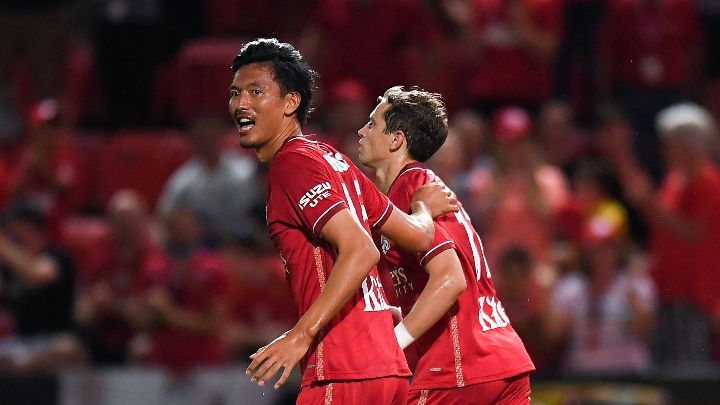 "Everything goes through to Nathan Kosmina and Vito Basile, and they forward stuff onto Carl [Veart] and myself," Adelaide United assistant coach Ross Aloisi said after the team's draw with Melbourne Victory earlier this month.
"We have a look at the player and assess whether he will suit our style, and we also do our homework on what type of character they are."
The future signing in question was Hiroshi Ibusuki, the 30-year-old Japanese striker who has been signed effectively as an injury replacement for Kusini Yengi.
Yet, the process of recruitment is something rarely examined in Australian football, and what Aloisi inadvertently outlined was something that has long been prevalent: The overbearing influence of the coaching staffs in transfers and squad composition.
This is not to say that coaches and their immediate staff should not have input when it comes to the players they will be working with, but the distinction locally is that their input is overtly primary.
It calls into question the actual and overall function of directors of football at A-League Men setups? Across the board, do the clubs even have anything equivalent to a recruitment structure, headed by these directors of football?
Given the logistical realities of the salary cap and resources at A-Leagues clubs, how much is that function geared towards cap facilitation, as opposed to the added investment of time that goes into assessing and maximising balance in profiles, player attributes and ceilings, and potential earnings?
"It's a bit of both, but a lot of what directors do in the A-Leagues [goes] towards managing the cap, as opposed to actually putting squads together," Australian player agent John Grimaud told ESPN.
"That's for me where the problem lies."
As a consequence, with the January transfer window now open, how does that impact the stability of club models as coaches come and go, and do they have sustainable recruitment and squad-building strategies that transcend the tactical implementation and inherently short-term ambitions of the head coach?
"With the world being the way it is, Australia is a convenient place to play football," Grimaud said.
"A lot of them know they can get the money they can't get overseas here in Australia, then you also know you're living a good lifestyle here. It's a no-brainer for them.
"I'll say [recruitment is] very ad hoc. If the club needs a striker, they'll look for a striker and more than likely look for a foreign striker."
FIFA's 2021 Global Transfer Report highlighted just how little money Australian clubs make, directly and indirectly, from transfers, in comparison to those in countries that are in some instances 60 places lower on the international rankings. Given the traditional reliance of A-Leagues club models on television rights, the failure to maximise this type of revenue stream makes traditional strategy in squad composition all the more counter-productive.
"The facts speak for themselves around how Australia has underperformed in the global transfer market," Melbourne Victory Director of Football John Didulica told ESPN. "The salary cap is incredibly soft as it is now, but none of these things are mutually exclusive.
"With the cap where it stands now, I think the clubs and the PFA [player union, Professional Footballers Australia] have shown a lot of foresight, expanding the scholarship rosters. It allows the clubs to keep these players for longer terms, while the scholarship players for the most part sit outside the cap and can train full-time, have a runway to develop."
That runway to develop is arguably cosmetic, though, bearing in mind the distribution of minutes in the A-League Men competition, let alone the profile of players who receive differing levels of scope at respective academies before they get to senior setups.
The tagline for the A-Leagues might be Here Come the Future, but it flies in the face of raw numbers. Basic minutes distribution for Australian outfield players trend upwards relative to age, especially for attacking players who must take on match-winning responsibility.
The impact of COVID-19 on scheduling means teams have played a fluctuating number of games with consequent amounts of minutes to distribute. Broken down per team, however, one can start to understand how squads and matchday compositions are intrinsically tilted towards age and experience.
So far this season, 45 outfield players aged 30 and over have seen a minimum of 50% of available minutes for their respective teams. The tally for players 23 and under is almost half that, at 25. Borne of financial necessity as much as anything, Central Coast Mariners account for six of those players alone: Kye Rowles, Daniel Hall, Joshua Nisbet, Lewis Miller, Harrison Steele and Jacob Farrell.
Last season, the respective tallies were 48 and 28, which is, bluntly, insane considering the existential questions that COVID-enforced lockdowns and non-attendance at games have asked of operational viability and sustainability in Australian football.
"Coaches under pressure will always err on the side of experience, and I'm yet to be proven otherwise," Grimaud said.
Didulica asserts that it isn't that simple, but does subscribe to the idea that, pending resources, A-League setups must improve in this aspect.
"If you boil it down to a singular reason, you're kidding yourself," Didulica said.
"It's not just about A-League match minutes," he said.
"Different clubs make decisions based on the individuals involved, so I can't speak for them, but the point is still well-made that there needs to be a more sustainable approach and model.
"I assume it would vary from club to club. There's sometimes a perception outside of clubs that decisions are siloed. It's something we will have to develop in time, and creating a working talent management framework. Recruiting is so much more multi-dimensional, and it's sub-optimal to work in isolation."
Despite the organisational vacuums that Victory coach Tony Popovic arguably left at Western Sydney Wanderers and Perth Glory, Victory have at least seemed to initially divert from the norm under his tenure. However, there is arguably an overall lack of real examination in this regard, with that lack of financial and human resources used as a traditional crutch. Coaching staffs, as a result, still do the bulk of the scouting legwork.
While the Reds do expose younger footballers to senior football at a relatively higher rate than the other A-League clubs, it then becomes a question of scope and responsibility placed upon those players. Because while McGree's transfer is a rightly positive story, there are examples such as Carlo Armiento, Taras Gomulka, Pacifique Niyongabire and Al-Hassan Toure who all experienced a plateau after that early exposure, before moving elsewhere and further stagnating. Time will tell what becomes of Bernardo Oliveira, Nestory Irankunda and Jonny Yull with this in mind. Meanwhile, Louis D'Arrigo has stagnated from regular starter to understudy for Isaias and Juande in midfield.
And Adelaide, along with Melbourne City, are perceived to be one of the role-models in this respect.
That Football Australia chief executive James Johnson came out this week and finally made mention of the elephant in the room, as someone in a position of actual authority in Australian football, is indicative of just how backwards the thinking is, along with the level of fear in potential conflict, in what is a highly concentrated local industry.
Then there is the discussion of eventual quality with the Australian national team, because the narrative that Australian football doesn't produce adequately talented footballers is misguided.
It's arguably more a matter of utilisation and embracing the risk that entails developing different profiles of footballer, from those with higher physical or aerobic capacity to the more technically inclined. The question, inevitably, is why? And do A-Leagues setups, given the aspirational sentiments of Australian football, owe a duty of care to the game itself while still aiming to be competitive?
"They should, we all should," Grimaud told ESPN.
"Everyone in the industry should have the big picture in mind, which is the game in this country and its growth, but the honest truth is we're selfish and we only care about what's in our own backyard.
"That produces a problem because we're only producing a minimum of players who can do a job at their club. But the bigger talents, the ones who actually have potential to leave Australia, are not really getting minutes because they're seen as too much of a risk."
Yet, that still implies the growth of the game and on-field success are separate aims when they don't have to be. Much like on a tactical basis, given the nature of football, such a bias towards experience is still hard for a governing body to legislate against.
The ultimate question on a strategic level is: Do decision-makers at A-Leagues setups have the capacity to self-regulate, against the inherent tendency of coaching staffs to not see past the next game? More than anything, this will determine the health of the Australian game as a whole, both on and off the pitch in domestic and international settings.
Related News
Richarlison racist incident 'unacceptable' - Kane
Tottenham captain Harry Kane has condemned a racist incident involving Richarlison during Brazil's 5-1 victory over Tunisia as "unacceptable."
Barca VP: Messi return financially possible in '23
Barcelona vice president Eduard Romeu has said Lionel Messi's return to the club as a player would be financially possible next summer.
Denmark WC kit protests Qatar on human rights
Denmark will wear kits at the World Cup that protest the human rights record of Qatar, with a black option, which was unveiled on Wednesday.
Ex-Prem player summoned to serve Russia army
Former Everton player Diniyar Bilyaletdinov has been summoned to serve in the Russian army.
'Tata' hits back at critics in 'peculiar' Mexico setup
Mexico manager Gerardo "Tata" Martino hit back at criticism after his team failed to hold onto a 2-0 lead in a 3-2 friendly loss to Colombia.
Women's World Cup ticket sales to begin Oct. 6
Ticket packages for the 2023 Women's World Cup co-hosted by Australia and New Zealand go on sale in October.
Arsenal's 'very weird' goalpost incident in CL
Arsenal Women's win over Ajax was overshadowed by bizarre scenes ahead of kick-off when the goalposts were found to be too small.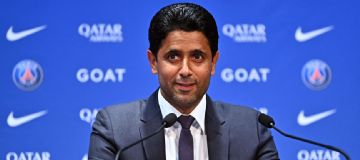 PSG president hits out at Barcelona asset sales
PSG president Nasser Al-Khelaifi has said Barcelona's asset sales in the summer were "not fair" and suggested UEFA would investigate their legality.