Messi, Kane rebound, Real Madrid decline soccer's notable underperformers and overperformers
Published:
Like it or not, soccer is a game of chance. Don't believe me? Take it from Juanma Lillo, Pep Guardiola's latest right-hand man at Manchester City. "What a coach does is attempt to increase the index of probability when it comes to winning a match," he told ESPN contributor Sid Lowe back in 2011. "As a coach, all you can [do] is deny fortune as much of its role as you possibly can."
He went on: "[Journalism] analyzes everything via success and as a result, journalism always wins. The analysis, the reports, are carried out via success, so they're always right. No one is looking at the process except through the prism of a result. That's hugely opportunist. And wrong."
So, uh, how 'bout we try to right that wrong?
With that in mind, let's take a look at the teams and players across the Big Five leagues who are most likely to see their luck turn around in the second half of the current campaign.
Sign up for ESPN+ and click through here to read the full story.
Related News
'Protect Players': U.S., England make statement
Players from England and the USWNT unveiled a banner before their match Friday at Wembley showing their support for victims of sexual abuse.
Mbappe beats Messi and Ronaldo to top rich list
Paris Saint-Germain forward Kylian Mbappe has emerged as the world's highest-paid football player, according to Forbes magazine.
'No tactics': Pjanic slams ex-Barca boss Koeman
Ex-Barcelona midfielder Miralem Pjanic has slammed Ronald Koeman's tenure, claiming that his training sessions lacked ideas and tactical work.
Sources: Chelsea to hire Leipzig director Vivell
Chelsea are set to appoint Christopher Vivell as the club's new technical director after his departure from RB Leipzig, sources told ESPN.
One dead as tear gas forces Boca abandonment
At least one person died after clashes between fans and police forced the Argentine match between Gimnasia and Boca Juniors to be abandoned.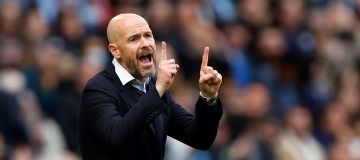 Ten Hag: Man United must learn to play 'nasty'
Manchester United manager Erik ten Hag has told his squad they must learn how to "play nasty" if they are going to be successful this season.
Arteta: Prem leaders Arsenal can still improve
Arsenal may be leading the Premier League but they still have plenty of room for improvement, manager Mikel Arteta has said.
Sources: Romeo Beckham trains with Brentford B
David Beckham's son Romeo is training with Premier League side Brentford's B team, sources have told ESPN.
Messi says 2022 World Cup will be his last
The 2022 World Cup in Qatar next month will be the last of Lionel Messi's storied career.