Shin reiterates commitment to Indonesia even if they fall short at AFF Suzuki Cup 2020
Published:
Having lost to Thailand 4-0 in the first leg on the final on Wednesday, the Indonesians need a near miracle if they are to overturn such a big deficit in Saturday's return encounter at Singapore's National Stadium.
- 
Don't miss The John Dykes Show, with all new episodes each Friday on Disney+ Hotstar. Click here to join the conversation!
Regardless of the final result, the campaign has been a positive one for a young and vibrant Indonesia outfit but there were some concerns over Shin's future following the first-leg loss, although he was quick to assuage such fears from the Garuda faithful ahead of the tournament finale.
"To put it simply, I have a contract with PSSI (Indonesian football's governing body) until Dec. 31, 2023, without any clause that this can be terminated," said Shin, with a wry smile on his face.
"Perhaps some fans might be worried about me possibly leaving because they don't know about this.
"I think the development of Indonesian football has only just begun and I'd like to say to the many fans out there to stay with us for the journey, bear with us and give us more support."
Like Shin, captain Evan Dimas believes the future looks exceedingly bright, even if a Suzuki Cup campaign might ultimately end in disappointment once again, with Indonesia already having the ignominy of being the tournament's record five-time runners-up.
"A lot of people might have spoken about how we haven't been doing well in the past. But at this tournament, all of us have tried really hard," explained Evan.
"As coach Shin has said, our squad is still very young and I'm hoping through this experience of playing in a final of such a big tournament, we will move forward and improve so as to contribute to the development of Indonesian football."
And while becoming champions could just prove to be a bridge too far, Shin sees no reason why his charges cannot go out on a high and inflict a first loss of the tournament on the Thais.
"I strongly believe we will win the match tomorrow," the South Korean tactician added.
"In the first-leg defeat, our boys were nervous and that was understandable, because they had no experience playing such a big match.
"We are aware that Thailand are a strong team and it will be a difficult match but, like I said, I have my faith that we're going to win the match."
Related News
Richarlison racist incident 'unacceptable' - Kane
Tottenham captain Harry Kane has condemned a racist incident involving Richarlison during Brazil's 5-1 victory over Tunisia as "unacceptable."
Barca VP: Messi return financially possible in '23
Barcelona vice president Eduard Romeu has said Lionel Messi's return to the club as a player would be financially possible next summer.
Denmark WC kit protests Qatar on human rights
Denmark will wear kits at the World Cup that protest the human rights record of Qatar, with a black option, which was unveiled on Wednesday.
Ex-Prem player summoned to serve Russia army
Former Everton player Diniyar Bilyaletdinov has been summoned to serve in the Russian army.
'Tata' hits back at critics in 'peculiar' Mexico setup
Mexico manager Gerardo "Tata" Martino hit back at criticism after his team failed to hold onto a 2-0 lead in a 3-2 friendly loss to Colombia.
Women's World Cup ticket sales to begin Oct. 6
Ticket packages for the 2023 Women's World Cup co-hosted by Australia and New Zealand go on sale in October.
Arsenal's 'very weird' goalpost incident in CL
Arsenal Women's win over Ajax was overshadowed by bizarre scenes ahead of kick-off when the goalposts were found to be too small.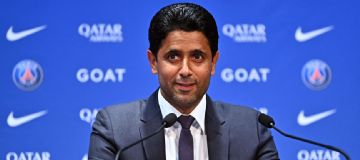 PSG president hits out at Barcelona asset sales
PSG president Nasser Al-Khelaifi has said Barcelona's asset sales in the summer were "not fair" and suggested UEFA would investigate their legality.