Shin wants Indonesia to bow out of AFF Suzuki Cup on a high even if winning is beyond them
Published:
Indonesia entered the first leg of the AFF Suzuki Cup 2020 final with cautious optimism, but also wistfully hoping that this might finally be the end of their 25-year wait to be crowned champions of Southeast Asia.
Within 90 minutes, that dream looks to be over even if there is still a second leg to play on Saturday, as Thailand put them to the sword with a ruthless 4-0 win at Singapore's National Stadium.
-
 Inspirational Chanathip helps Thais put one hand on 6th AFF title
- 
Don't miss The John Dykes Show, with all new episodes each Friday on Disney+ Hotstar. Click here to join the conversation!
Stranger things have happened but, given the Thais have arguably been the hungriest side all tournament long while Indonesia have already done well to get this far, it seems unlikely that the curtain will come down on the tournament with any major surprises.
Regardless of the final result, Indonesia's campaign will go down as a positive one but coach Shin Tae-yong is determined for his charges to go out on a high.
"It might be already impossible for us to come back and defeat Thailand in the second leg to become the champions, especially if the performance is similar to today's," said the South Korean.
"The ball is round however, and if we do our best, we can still get a good result in the second leg. We won't give up and we will keep fighting.
"I know there are so many Indonesian fans supporting us so we'll do our best to at least leave the tournament on a high."
Boasting one of the youngest squads in the tournament, and with the 16 players that featured on Wednesday with an average age of just 23, the future looks exceedingly bright for Indonesia and this experience could yet stand them in good stead at future tournaments.
Nonetheless, Shin admits their precocity could have just been the difference against the battle-hardened Thais, who boast nine former Suzuki Cup winners in their ranks.
"We prepared well for the match and it hasn't been easy for us to get to the final. However, many players were playing in a final for the first time and the fact that we conceded an early goal (after just two minutes) gave us a hard time," added Shin.
"We also had a chance in the first half when (Alfeandra) Dewangga had the ball right in front of the goal. If that had gone in, perhaps we could have had a better match.
"I wasn't expecting us to be beaten by such a big margin but I do strongly feel we are lacking experience in the squad. We won't dwell too much on this defeat and I will keep encouraging the players to focus on the positives.
"I think Thailand had the perfect match whereas we didn't play so well, but this is a defeat we will accept, go back and prepare for the second leg."
Related News
Barca VP: Messi return financially possible in '23
Barcelona vice president Eduard Romeu has said Lionel Messi's return to the club as a player would be financially possible next summer.
Denmark WC kit protests Qatar on human rights
Denmark will wear kits at the World Cup that protest the human rights record of Qatar, with a black option, which was unveiled on Wednesday.
'Tata' hits back at critics in 'peculiar' Mexico setup
Mexico manager Gerardo "Tata" Martino hit back at criticism after his team failed to hold onto a 2-0 lead in a 3-2 friendly loss to Colombia.
Injuries up 20% amid packed schedule - study
Injuries across Europe's five major leagues rose by 20% last season and cost clubs in the region of half a billion pounds, a new study has found.
Women's World Cup ticket sales to begin Oct. 6
Ticket packages for the 2023 Women's World Cup co-hosted by Australia and New Zealand go on sale in October.
Arsenal's 'very weird' goalpost incident in CL
Arsenal Women's win over Ajax was overshadowed by bizarre scenes ahead of kick-off when the goalposts were found to be too small.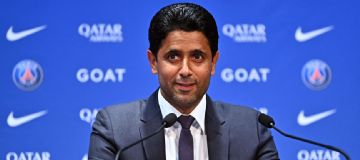 PSG president hits out at Barcelona asset sales
PSG president Nasser Al-Khelaifi has said Barcelona's asset sales in the summer were "not fair" and suggested UEFA would investigate their legality.
Hermoso: Spain coach dispute 'worst in history'
Jenni Hermoso said the hostile situation with head coach Jorge Vilda is "one of the worst times in the history of Spanish women's football."