Juan Cuadrado slams suspicious goal that decided promotion in Colombia
Published:
Colombia international Juan Cuadrado has slammed the circumstances surrounding Union Magdalena's promotion to the first division in his homeland.
The Colombian soccer players' association has called for an investigation into a key promotion match between Llaneros and Union Magdalena on Saturday night. Llaneros were leading 1-0 until the 95th minute, when the visitors scored twice in succession.
Video of the winning goal appeared to show the Llaneros players backing off their opponents and allowing them to score.
The result meant that Union Magdalena are promoted to the top tier, the Dimayor league, ahead of Fortaleza, who lost 2-1 at home the same night to Bogota.
"Give the cloak of doubt that the result of the match between @ClubLlanerosFC and @UnionMagdalena has generated, we ask the disciplinary commission of the @Dimayor to carry out a rigorous investigation as soon as possible," the professional footballers' association ACOLFUTPRO said in a tweet.
Neither of the clubs responded immediately to requests for comment, although Union Magdalena tweeted the result was for "those who think anything is possible."
Two Colombian internationals expressed their unease at the happenings.
In a tweet, Cuadrado, the captain of Italian side Juventus, called the Union Magdalena goal "a lack of respect."
His Colombian teammate, Mateus Uribe, replied, saying it was "an embarrassment for Colombian football."
Fortaleza coach Nelson Florez broke down in tears at the post-match press conference. While admitting they had not done their part by winning, he nevertheless questioned the outcome.
"I am not ashamed to cry, because I feel robbed," he said. "We can lose, but not this way."
Related News
Richarlison racist incident 'unacceptable' - Kane
Tottenham captain Harry Kane has condemned a racist incident involving Richarlison during Brazil's 5-1 victory over Tunisia as "unacceptable."
Barca VP: Messi return financially possible in '23
Barcelona vice president Eduard Romeu has said Lionel Messi's return to the club as a player would be financially possible next summer.
Denmark WC kit protests Qatar on human rights
Denmark will wear kits at the World Cup that protest the human rights record of Qatar, with a black option, which was unveiled on Wednesday.
Ex-Prem player summoned to serve Russia army
Former Everton player Diniyar Bilyaletdinov has been summoned to serve in the Russian army.
'Tata' hits back at critics in 'peculiar' Mexico setup
Mexico manager Gerardo "Tata" Martino hit back at criticism after his team failed to hold onto a 2-0 lead in a 3-2 friendly loss to Colombia.
Women's World Cup ticket sales to begin Oct. 6
Ticket packages for the 2023 Women's World Cup co-hosted by Australia and New Zealand go on sale in October.
Arsenal's 'very weird' goalpost incident in CL
Arsenal Women's win over Ajax was overshadowed by bizarre scenes ahead of kick-off when the goalposts were found to be too small.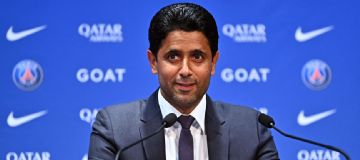 PSG president hits out at Barcelona asset sales
PSG president Nasser Al-Khelaifi has said Barcelona's asset sales in the summer were "not fair" and suggested UEFA would investigate their legality.