McNeese St. 56, Savannah St. 0
Published:
Fourroux and Pendland played only the first half for the Cowboys (3-0). Fourroux was 12-for-19 for 153 yards and had scoring strikes of 34 yards to Immanuel Friddle, 68 yards to Chris Royal and 4 yards to Corday Clark. Pendland had seven carries for 104 yards, including touchdown runs of 44 and 41 yards. The Cowboys scored their first touchdown on a quarterback sack and recovered fumble in the end zone by Desmund Lighten on the game's fourth play. Kentrel Butler closed out the scoring with a 44-yard interception return. McNeese State had 489 yards on offense, including a season-high 288 rushing yards, while Savannah State had 138 total yards. A.J. DeFilippis was 9-for-12 for 65 yards for the Tigers (1-2).
Related News
Messi: After struggles in Argentina, fans love me
In an interview with Star+, Lionel Messi said, a year after lifting the World Cup trophy in Qatar, that one of his top triumphs is having turned criticism into praise from Argentina fans.
Ronaldo faces $1B lawsuit for promoting NFTs
Portuguese soccer star Cristiano Ronaldo has been hit with class-action lawsuit seeking at least $1 billion in damages for his role in promoting cryptocurrency-related NFTs, issued by the beleaguered cryptocurrency exchange Binance.
Everton appeal against 10-point deduction by PL
Everton have filed an appeal against their 10-point deduction by the Premier League, the club said on Friday.
Ange on sin-bin idea: Refs should stop interfering
Ange Postecoglou has urged football's lawmakers to scrap plans to introduce sin-bins and stop making unnecessary changes that could have a detrimental effect on the game.
Ten Hag: Onana is the 2nd best keeper in PL
Erik ten Hag has backed under-fire André Onana by insisting the Manchester United goalkeeper is "the second best" in the Premier League.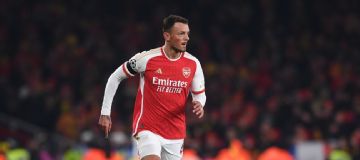 Sources: Arsenal in talks with White over new deal
Arsenal are increasingly hopeful of agreeing a new contract with Ben White after opening talks with the defender, sources have told ESPN.
Mourinho hits out at 'superficial' Roma players
Roma manager Jose Mourinho said some of his players had adopted a "superficial approach" in Thursday's Europa League game against Servette in Geneva.