UEL draw - Man United on course for Lukaku reunion with Inter in Europa League final
Published:
Manchester United face a potential Europa League final against Inter Milan following Friday's draw.
Ole Gunnar Solskjaer's side take a commanding 5-0 lead over Austrian side LASK into the second leg of their round-of-16 tie. Progression to the quarterfinals would mean United face the winners of the clash between FC Copenhagen and Istanbul Basaksehir, with the Danes 1-0 up from their first meeting.
- Stream FC Daily on ESPN+

Inter's clash with Getafe is one of two ties, along with Sevilla vs. Roma, where the first leg was postponed, and will now be a one-off tie. The winner of Inter vs. Getafe will meet Bayer Leverkusen or Rangers, with the German side having won the first leg 3-1 away.
United and Inter, the two favourites for the competition, were in different halves of the draw. It means they cannot meet until the final, with United facing the possibility of an all-English affair against Wolves or a clash with Sevilla in the semifinals. Sevilla has won the tournament a record five times. 
A meeting between United and Inter would mean a reunion of familiar faces, with Romelu Lukaku and Ashley Young having moved from Old Trafford to San Siro in the past 12 months, while Alexis Sanchez is on loan.
Because of the unprecedented stoppage brought upon by the global coronavirus pandemic, the tournament will be formed of one-off matches in Germany from Aug. 5, with the final on Aug. 21 taking place at Stadion Koln in Cologne.
The other games will take place in the MSV Arena in Duisburg, Dusseldorf Arena in Dusseldorf and AufSchalke in Gelsenkirchen. Originally, the final was supposed to take place in the Polish city of Gdansk, which will now host it in 2021.
Round of 16 first-leg results
Shakhtar Donetsk (2) vs. Wolfsburg (1)
Leverkusen (3) vs. Rangers (1)
Wolves (1) vs. Olympiakos (1)
Manchester United (5) vs. LASK (0)
Basel (3) vs. Frankfurt (0)
Copenhagen (0) vs. İstanbul Basaksehir (1)
Round of 16 ties yet to be played
Getafe vs. Inter Milan
Sevilla vs. Roma
Quarterfinal draw (Aug. 10-11)
Wolfsburg or Shakhtar Donetsk vs. Eintracht Frankfurt or Basel
LASK or Manchester United vs. FC Copenhagen or Istanbul Basaksehir
Inter Milan or Getafe vs. Bayer Leverkusen or Rangers
Wolves or Olympiakos vs. Roma or Sevilla
Semifinal draw (Aug. 16-17)
Wolves or Olympiakos / Roma or Sevilla vs. LASK or Manchester United / FC Copenhagen or Istanbul Basaksehir
Inter Milan or Getafe / Bayer Leverkusen or Rangers va. Wolfsburg or Shakhtar Donetsk / Eintracht Frankfurt or Basel
Related News
'Protect Players': U.S., England make statement
Players from England and the USWNT unveiled a banner before their match Friday at Wembley showing their support for victims of sexual abuse.
Mbappe beats Messi and Ronaldo to top rich list
Paris Saint-Germain forward Kylian Mbappe has emerged as the world's highest-paid football player, according to Forbes magazine.
'No tactics': Pjanic slams ex-Barca boss Koeman
Ex-Barcelona midfielder Miralem Pjanic has slammed Ronald Koeman's tenure, claiming that his training sessions lacked ideas and tactical work.
Sources: Chelsea to hire Leipzig director Vivell
Chelsea are set to appoint Christopher Vivell as the club's new technical director after his departure from RB Leipzig, sources told ESPN.
One dead as tear gas forces Boca abandonment
At least one person died after clashes between fans and police forced the Argentine match between Gimnasia and Boca Juniors to be abandoned.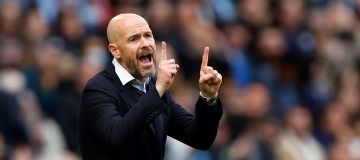 Ten Hag: Man United must learn to play 'nasty'
Manchester United manager Erik ten Hag has told his squad they must learn how to "play nasty" if they are going to be successful this season.
Arteta: Prem leaders Arsenal can still improve
Arsenal may be leading the Premier League but they still have plenty of room for improvement, manager Mikel Arteta has said.
Sources: Romeo Beckham trains with Brentford B
David Beckham's son Romeo is training with Premier League side Brentford's B team, sources have told ESPN.
Messi says 2022 World Cup will be his last
The 2022 World Cup in Qatar next month will be the last of Lionel Messi's storied career.