Nigeria Professional Football League weighing up resumption options
Published:
Nigeria's football authorities are mulling four options for rounding up the domestic league season amid the coronavirus pandemic.
The Nigeria Professional Football League (NPFL), which was suspended on March 18, still has 13 rounds of matches to play.
Last week, the executive committee of the Nigeria Football Federation (NFF) directed the NPFL, along with other leagues in the country, to liaise with its football committee on the resumption.
Shehu Dikko, chairman of the League Management Company, which organises the NPFL, says the organisation has four options under consideration.
"We already have our plans," he said in an interview with Channels TV. "We discussed several options, and we have four on the table being discussed at the highest levels.
"The first option was if the league can resume normally with every club playing home and away, and finish the 13 match days remaining. But that is really a long shot because even if the country opens today, we are not sure you are going to have a chance to have interstate travel.
"Option two is to move all the teams to a particular state with three stadiums that are not more than two hours apart so that we can all stay there and within six or seven weeks finish all the matches at neutral venues.
"That is another long shot because the teams have to move there, they have to be quarantined, they have to be tested, and then there is the financial demands on the clubs. Will any club be able to move outside their zones for one month, play matches every three days?
"Option three is that, based on the time available and the reality on the ground, we end the league as it is today and then adjust the table using the points-per-game system so that we can adjust for teams that have outstanding games and bring all the teams at par.
"Nobody is sure what is going to happen, when the curve will flatten, so the most feasible option will be the third one, the playoff one.
"The playoffs would be in one venue and would be six teams. That can be easily controlled and the health of the players can be easily controlled, and it is a one-venue event, a 10-day event."
Dikko said that all the options were being evaluated with adjustable timelines, so the league could recommence as soon as the country reopened.
"But for now, all the options are on the table We will have a conversation with the NFF, then we will present it to the Government and a collective decision will be taken," he added.
"At the end of the day, it is what the Government feel they can support and what they feel is achievable for the health of the players and that of everybody involved that will determine.
"If the country cannot open, and the Government will not allow any football to go ahead, then [the fourth option] would be to end the league as it is, use the points-per-game system to adjust the table and bring all the teams at par, and decide champions and teams to represent the country in the continent."
"We are evaluating all these options. We also have timelines available that we are putting to the clubs and everybody. We are quite ahead of everybody in our planning."
Good as all this may sound, there remains a small but significant snag, with club officials pushing back at any decision to call a premature end to the season.
Dikko said that decisions would be made in consultation with the NFF and government authorities.
"If we can move on with the season, fine and good," he said.
"But it must be subject to all the conditions being met. Any decision will be based on when the country reopens, when the Government approves that football can go ahead.
"Then we can take a decision to see what kind of format and what option will be best to end the season. Whatever decision we are gong to take will be based on sporting merit and sporting fairness."
Related News
'Protect Players': U.S., England make statement
Players from England and the USWNT unveiled a banner before their match Friday at Wembley showing their support for victims of sexual abuse.
Mbappe beats Messi and Ronaldo to top rich list
Paris Saint-Germain forward Kylian Mbappe has emerged as the world's highest-paid football player, according to Forbes magazine.
'No tactics': Pjanic slams ex-Barca boss Koeman
Ex-Barcelona midfielder Miralem Pjanic has slammed Ronald Koeman's tenure, claiming that his training sessions lacked ideas and tactical work.
Sources: Chelsea to hire Leipzig director Vivell
Chelsea are set to appoint Christopher Vivell as the club's new technical director after his departure from RB Leipzig, sources told ESPN.
One dead as tear gas forces Boca abandonment
At least one person died after clashes between fans and police forced the Argentine match between Gimnasia and Boca Juniors to be abandoned.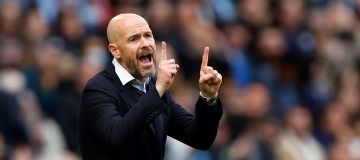 Ten Hag: Man United must learn to play 'nasty'
Manchester United manager Erik ten Hag has told his squad they must learn how to "play nasty" if they are going to be successful this season.
Arteta: Prem leaders Arsenal can still improve
Arsenal may be leading the Premier League but they still have plenty of room for improvement, manager Mikel Arteta has said.
Sources: Romeo Beckham trains with Brentford B
David Beckham's son Romeo is training with Premier League side Brentford's B team, sources have told ESPN.
Messi says 2022 World Cup will be his last
The 2022 World Cup in Qatar next month will be the last of Lionel Messi's storied career.