U.S. Soccer embracing Hayes' 'bold, brave' vision for USWNT
Published:
U.S. Soccer sporting director Matt Crocker said that the United States women can evolve into a side that is "bold and brave" and adept in possession under new manager Emma Hayes.
Crocker, on a Zoom call with reporters, made his first public comments about the hiring of Hayes since it was announced last week, including the unusual arrangement that will have Hayes see out the current club season with Chelsea and then take over the USWNT in May.
"It's not ideal, as we know that Emma can't start with us straight away," Crocker said. "But from my perspective, what was important is that we got the best candidate for the long term rather than the wrong candidate for the short term. This is the soonest that we can get Emma, being respectful to her, the job that she has to do with Chelsea, the contract situation with Chelsea."
Crocker also said that he has confidence in Kilgore to manage the day-to-day aspects of the team.
"I'm really, really confident that working with Twila, we can pull together an outstanding plan to prepare this team for the Olympics in the short term," Crocker said. "But also for this team to start to evolve and develop and under Twila's leadership to be ready and strong for the long term."
That evolution will bear watching going forward. In an editorial for The Telegraph shortly after the U.S. team's elimination from the Women's World Cup, Hayes claimed problems in the development pipeline that left the USWNT "massively short of creative talent."
That issue is one in which a national team manager has limited influence. Coaches only have so much control over who enters the player pool, as well as the style implemented within youth clubs.
However, Crocker still feels that the issue is one in which Hayes can help the USWNT improve.
"I think with good coaching, with the right tactics to evolve this team in particularly with an in-possession style and also making sure that the players that come in feel like they've got the freedom to create and be themselves is going to be critically important," he said.
"And both Emma and Twila have got that in [their] coaching, as will all our technical team. We want the team to be bold and brave going forward and dynamic, but we also want to become a very possession based team and we feel like as if this team can evolve into that with the skills of both Emma and Twila."
Related News
Messi: After struggles in Argentina, fans love me
In an interview with Star+, Lionel Messi said, a year after lifting the World Cup trophy in Qatar, that one of his top triumphs is having turned criticism into praise from Argentina fans.
Ronaldo faces $1B lawsuit for promoting NFTs
Portuguese soccer star Cristiano Ronaldo has been hit with class-action lawsuit seeking at least $1 billion in damages for his role in promoting cryptocurrency-related NFTs, issued by the beleaguered cryptocurrency exchange Binance.
Everton appeal against 10-point deduction by PL
Everton have filed an appeal against their 10-point deduction by the Premier League, the club said on Friday.
Ange on sin-bin idea: Refs should stop interfering
Ange Postecoglou has urged football's lawmakers to scrap plans to introduce sin-bins and stop making unnecessary changes that could have a detrimental effect on the game.
Ten Hag: Onana is the 2nd best keeper in PL
Erik ten Hag has backed under-fire André Onana by insisting the Manchester United goalkeeper is "the second best" in the Premier League.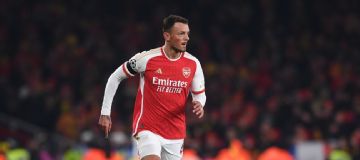 Sources: Arsenal in talks with White over new deal
Arsenal are increasingly hopeful of agreeing a new contract with Ben White after opening talks with the defender, sources have told ESPN.
Mourinho hits out at 'superficial' Roma players
Roma manager Jose Mourinho said some of his players had adopted a "superficial approach" in Thursday's Europa League game against Servette in Geneva.