Mbappé knew Messi would win Ballon d'Or after WC final
Published:
France's Kylian Mbappé said he knew that Lionel Messi would win the Ballon d'Or after the Argentina forward led his country to glory at the 2022 World Cup.
Mbappe scored a hat trick for France in the epic final in Qatar but he could not prevent Argentina from lifting the title on penalties. 
"I knew he would win it [Ballon d'Or] the night of the World Cup final," Mbappé said. 
"Messi deserves it. If he wins the World Cup he has to win the Ballon d'Or. He is one of the best in history, if not the best."
Messi, who was named as the World Cup's Player of the Tournament after scoring seven goals, won a record eighth Ballon d'Or, ahead of Manchester City's Erling Haaland and former Paris Saint-Germain teammate Mbappé.
Some questioned whether Inter Miami star Messi deserved the award ahead of City's Haaland, who scored 51 goals to lead City to a Premier League, Champions League and FA Cup treble. For Mbappé, who had 29 league goals in 34 league appearances to help PSG win the Ligue 1 title, there's no debate.
"It's true that Erling Haaland and I had a good season, but that next to a World Cup won by Messi, there is no comparison," Mbappé said.
Related News
Messi: After struggles in Argentina, fans love me
In an interview with Star+, Lionel Messi said, a year after lifting the World Cup trophy in Qatar, that one of his top triumphs is having turned criticism into praise form Argentina fans.
Ronaldo faces $1B lawsuit for promoting NFTs
Portuguese soccer star Cristiano Ronaldo has been hit with class-action lawsuit seeking at least $1 billion in damages for his role in promoting cryptocurrency-related NFTs, issued by the beleaguered cryptocurrency exchange Binance.
Everton appeal against 10-point deduction by PL
Everton have filed an appeal against their 10-point deduction by the Premier League, the club said on Friday.
Ange on sin-bin idea: Refs should stop interfering
Ange Postecoglou has urged football's lawmakers to scrap plans to introduce sin-bins and stop making unnecessary changes that could have a detrimental effect on the game.
Ten Hag: Onana is the 2nd best keeper in PL
Erik ten Hag has backed under-fire André Onana by insisting the Manchester United goalkeeper is "the second best" in the Premier League.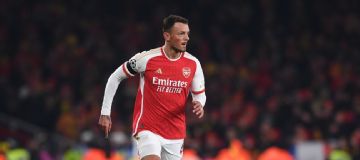 Sources: Arsenal in talks with White over new deal
Arsenal are increasingly hopeful of agreeing a new contract with Ben White after opening talks with the defender, sources have told ESPN.
Mourinho hits out at 'superficial' Roma players
Roma manager Jose Mourinho said some of his players had adopted a "superficial approach" in Thursday's Europa League game against Servette in Geneva.