Grasshoppers players 'blackmailed' into giving their shirts to fans - president
Published:
The president of fallen Swiss giants Grasshopper Zurich said he was "blackmailed" by the club's own fans on Sunday after they had demanded the players' shirts once Lucern had taken a 4-0 lead in their Swiss Super League clash.
Angry Grasshopper supporters threatened to storm the pitch after their side conceded a fourth, forcing a match involving the team to be called off for the second time in two months.
If the result is confirmed by the Swiss Football League disciplinary commission, the 27-times Swiss champions will be relegated, ending an unbroken 68 years in the top flight.
"I will look to speak to politicians and the federation," Stephan Rietiker told a news conference on Monday. "We need action now.
"A mix of repression and dialogue is needed. It is a society problem. In this country, car drivers get tougher punishments than hooligans."
Dozens of fans moved to the front of the terraces and threatened to storm the pitch after Lucerne's fourth goal and Rietiker said he had no option but to talk to them.
"The intention was to calm things down," Rietiker said. "I went against my heart and agreed to giving up the shirts.
"It was the best thing to do in this situation otherwise we could have had hooligans in the dressing room. Clear threats were being made by fans.
"It was clear blackmail. But I had to weigh things up. There was not much police there. I decided to fulfil the jersey gesture."
Coach Uli Forte, meanwhile, said he would stay with the club for next season's campaign in the second tier.
Swiss football has been plagued by fan violence over the years, far removed from the Alpine nation's reputation for peace and order.
Related News
Richarlison racist incident 'unacceptable' - Kane
Tottenham captain Harry Kane has condemned a racist incident involving Richarlison during Brazil's 5-1 victory over Tunisia as "unacceptable."
Barca VP: Messi return financially possible in '23
Barcelona vice president Eduard Romeu has said Lionel Messi's return to the club as a player would be financially possible next summer.
Denmark WC kit protests Qatar on human rights
Denmark will wear kits at the World Cup that protest the human rights record of Qatar, with a black option, which was unveiled on Wednesday.
Ex-Prem player summoned to serve Russia army
Former Everton player Diniyar Bilyaletdinov has been summoned to serve in the Russian army.
'Tata' hits back at critics in 'peculiar' Mexico setup
Mexico manager Gerardo "Tata" Martino hit back at criticism after his team failed to hold onto a 2-0 lead in a 3-2 friendly loss to Colombia.
Women's World Cup ticket sales to begin Oct. 6
Ticket packages for the 2023 Women's World Cup co-hosted by Australia and New Zealand go on sale in October.
Arsenal's 'very weird' goalpost incident in CL
Arsenal Women's win over Ajax was overshadowed by bizarre scenes ahead of kick-off when the goalposts were found to be too small.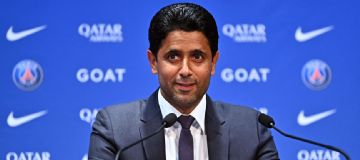 PSG president hits out at Barcelona asset sales
PSG president Nasser Al-Khelaifi has said Barcelona's asset sales in the summer were "not fair" and suggested UEFA would investigate their legality.